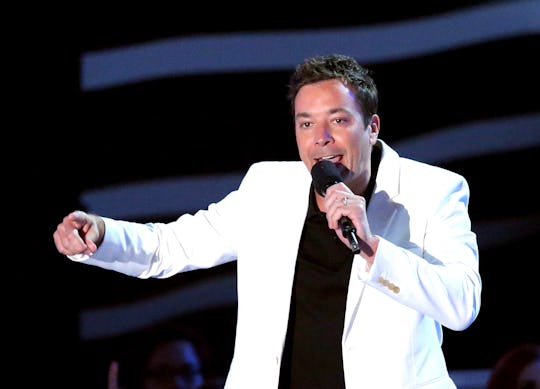 Mark Davis/Getty Images Entertainment/Getty Images
Jimmy Fallon's Ryan Lochte Impression At The VMAs Was Spot On
Normally, when Beyoncé is in the room, there is no one as flawless as she. But Jimmy Fallon gave her a run for her money at the 2016 MTV VMAs. Jimmy Fallon's Ryan Lochte impression at the VMAs was absolutely spot on and one of the best moments of the night. He joined his "fellow Olympians" Michael Phelps and the women of Team USA gymnastics (minus Gabby Douglas, who was out with a medical issue) as presenters. But, of course, as the most controversial Olympian of Team USA, Lochte was properly roasted by Fallon.
He showed up in a silver wig (not yet turned green from the chlorine apparently) with a very sad looking silver medal around his neck, doing Lochte's signature swim slaps and swimmer's ear head tosses. The real Ryan Lochte may well have been slated to appear at the VMAs alongside Michael Phelps. But since he falsified a police report in Rio, lied to international media (or just to his mom, depending on which account you read), and ditched his teammates on another continent to be detained during the Olympics, Lochte probably has some laying low to do. Fallon addressed the controversy, joking that he could never choose between the nominees he was presenting, "even if there was a gun to my head."
This, of course, was a reference to Lochte's allegation that he was mugged at a gas station at gunpoint, when, in fact, security footage shows him and his teammates destroying property, and being generally obnoxious. Fallon-as-Lochte also came out singing Justin Bieber's "Sorry" (claiming that he wrote it), which, yes, Ryan. It is too late to say. In fact, he claimed, he directed all five videos for Video of the Year, which is the award he was presenting at the very end of the night.
But probably the best part of the whole bit was how freakin' excited Michael Phelps got watching Fallon's impression from the audience. Cameras cut to him again and again, and you could see the glee on his face watching his bro get sent up. He almost immediately whipped out his phone to record the whole thing. You can even see him lean over to his wife Nicole Johnson at one point to say, "That's awesome." Now that Phelps is a post-rehab, party-reformed dad, it's pretty clear that he has enough distance from being caught in situations like that to chuckle at them. And we were laughing right along with him.