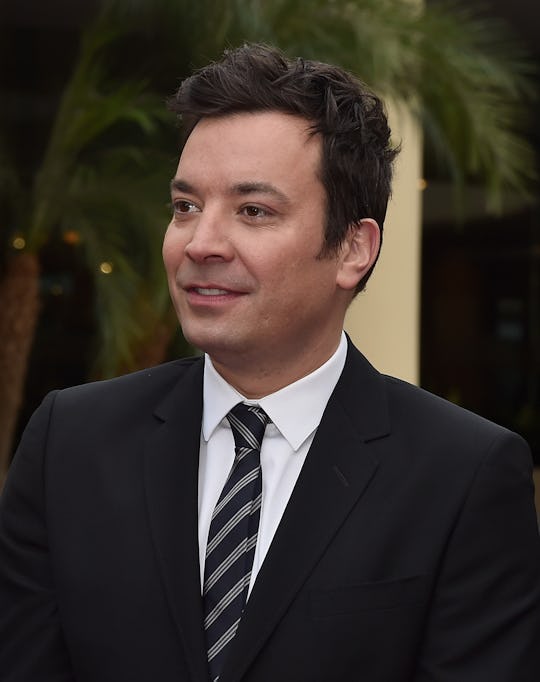 Alberto E. Rodriguez/Getty Images Entertainment/Getty Images
All Of Jimmy Fallon's Trump Jokes From The Globes
With 12 days to go until Inauguration Day, it was no surprise that the 2017 Golden Globes would hit hard with jokes about president-elect Donald Trump and American politics. And Jimmy Fallon's Trump jokes during the Golden Globes monologue got people talking.
After what, emotionally, felt like the longest recorded year in human history, 2016 and the pre-election world already seems like it's decades in the past. But it was only four months ago in September that Trump, prior to the election, appeared on The Tonight Show with Jimmy Fallon. Fallon was widely criticized for having "gone easy" on Trump, giving a very non-confrontational interview and appearing to "normalize" some of Trump's more controversial policies and comments. In what can be best described as the hair ruffle heard 'round the world, Fallon even lightly poked fun at Trump's hair.
In a Q&A with The Hollywood Reporter prior to the awards ceremony, Fallon promised Trump jokes, noting that the whole night wouldn't focus on the president-elect, but that "it will be a week before the inauguration, so it will be on everyone's mind." For the most part, viewers were prepared for Fallon to pepper his opening monologue with more light jabs at Trump and the late night host certainly did, working in a Trump-King Joffrey comparison during an aside about Game of Thrones. "A lot of people wonder what it would be like if King Joffrey had lived," the host joked. "Well, in 12 days, we're going to find out."
But many of those watching and live-tweeting weren't about to let Fallon's earlier interview with Trump go unmentioned just because of a few more critical jokes comparing the president-elect to one of the most iconic fictional villainous kings of all-time. Many tweeted out the now-infamous image of Fallon ruffling Trump's hair along with decidedly unimpressed comments about the Golden Globes' host's opening monologue jokes.
In addition to the King Joffrey joke, Fallon also quipped that the Golden Globes was "one of the few places left where America still honors the popular vote," an obvious reference to the fact that Trump won the electoral college but lost the popular vote to Democratic nominee Hillary Clinton. The host also brought up the anticipated rough turnout of musical performers at Trump's Jan. 20 inauguration, joking that the titular terrible opera singer played by Meryl Streep in Florence Foster Jenkins even turned down the chance to perform.
Of course, Fallon wasn't the only person to joke about the president-elect during the ceremony. In various acceptance speeches, winners like Hugh Laurie also made Trump jabs. A word to the wise: Anyone who was planning on making a drinking game out of Trump-related humor at the Golden Globes tonight might want to abandon that now, given the rate Americans are already going.