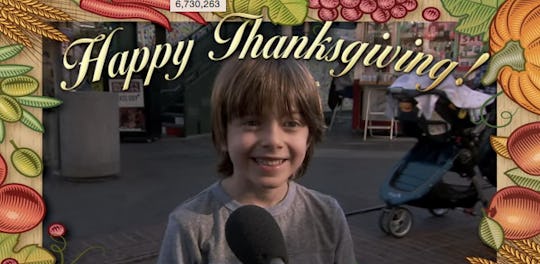 Jimmy Kimmel Asks Kids What They're Thankful For This Thanksgiving, & They Answer Exactly How You Would — VIDEO
It's no secret that Jimmy Kimmel is the late night master when it comes to kids. (Hard to believe considering the fact that Kimmel got his start on the boobs-and-trampoline-filled, very much not-G-rated The Man Show. He's come so far?) But just one month after his newest Halloween prank hit the Internet and airwaves, the Jimmy Kimmel LIVE! host has another offering: Kimmel's video asking kids what they're thankful for this Thanksgiving.
True, this video not quite the slam dunk that Kimmel's undeniably hilarious Halloween prank videos are. But it's precious nonetheless. Come on, it's cute kids! Doing cute things! How could it not be lovable? And, as it turns out, relatable. Because it seems when it comes to the holiday that is Thanksgiving, we grown adults have much in common with those who are 20 or more years younger than us.
Take this child, who was clearly after our hearts (and stomachs) with his response about what he's thankful for this Thanksgiving (and, in the process, he made me thankful that the lunch hour is upon us):
And who can't relate to this during holiday travel?
Watch the video below, and be thankful that Kimmel's surely got more of these to come.
Image: ABC