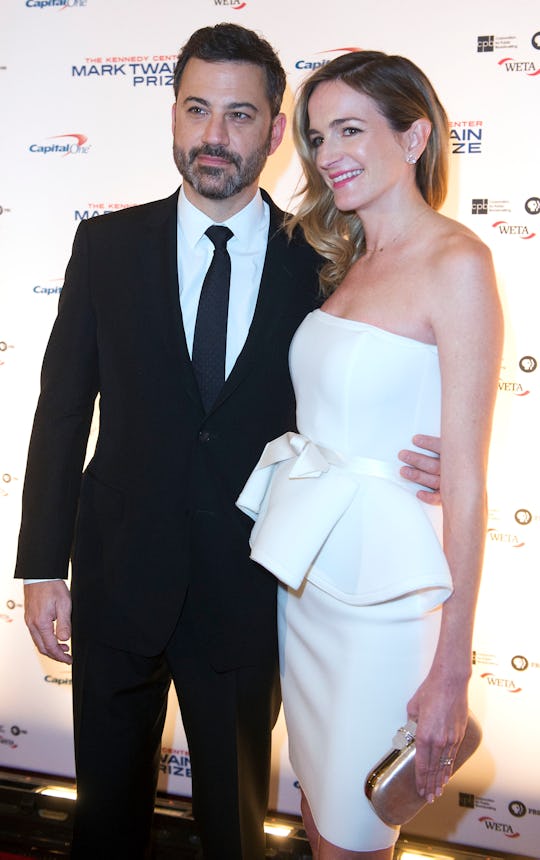 Leigh Vogel/Getty Images Entertainment/Getty Images
Jimmy Kimmel & Molly McNearey Are Expecting Baby No. 2, & His Announcement Was Awesome
Last night on Jimmy Kimmel Live!, host Jimmy Kimmel made a couple exciting announcements about his life in 2017: he'll be hosting the 89th Academy Awards in February, and oh yeah — his wife is pregnant with their second child. Jimmy Kimmel and Molly McNeary are expecting baby No. 2, and his announcement on Jimmy Kimmel Live! was pretty hilarious.
After announcing that he'll be hosting the Oscars this year, Kimmel seamlessly segued into his next big announcement by saying, "Also, my wife, is hosting a baby inside her body. So that's what's coming."
Kimmel, 49, has been married to his wife Molly McNeary — a co-head writer for Kimmel's show — since 2013. They had been dating for several years prior to Kimmel's proposal, and met because McNeary has been a writer on Kimmel's show for nearly 10 years. Kimmel was previously linked to fellow comedian Sarah Silverman, but the two split up in 2009 after being on-again, off-again for the better part of the decade.
Kimmel was picked to host the late night comedy show over Jon Stewart back in 2002, and Jimmy Kimmel Live! debuted in 2003 — a misnomer, since the show isn't actually live, according to Rolling Stone.
Since Jimmy Kimmel Live! has been Kimmel's metaphorical "baby" for the last 10 years, it's really no surprise that he made the announcement on his show — and, of course, in the form of a traditional, late-night, comedic monologue:
We got the ultrasound — which is weird because it's like you're already spying on the baby — but we asked the technician not to tell us whether we're having a boy or a girl. Our plan is to let the child decide for itself. We want that to be a surprise, but I have been trying to think of names that would work for a boy or girl. So far, I've come up with two: No. 1 Dyson after the vacuum or Gelatin with a J. No? That's exactly what my wife said. So — there's a lot of exciting stuff going on. Congratulations to me. I'm hosting the Oscars and I had sex. Two things as a teenage boy I never thought would be possible.
Kimmel and McNeary have one child together already: a daughter named Jane, who is 2 years old. Kimmel also has two adult children from his previous marriage to Gina Maddy, who he'd met in college. The couple divorced in 2002.
Fans of Kimmel's show probably remember Jane from earlier this year, when the toddler appeared in a sketch on Kimmel's show wherein he accused her of ruining his Mother's Day plans: "It turns out the only bad thing about Mother's Day is having children," Kimmel joked as he showed the audience pictures from his carefully planned Mother's Day dinner for his wife — during which the toddler threw a pretty epic tantrum. No doubt the couple's good humor will come in handy when the new baby arrives and Kimmel has to try to plan the perfect Mother's Day with two little kids conspiring against him.