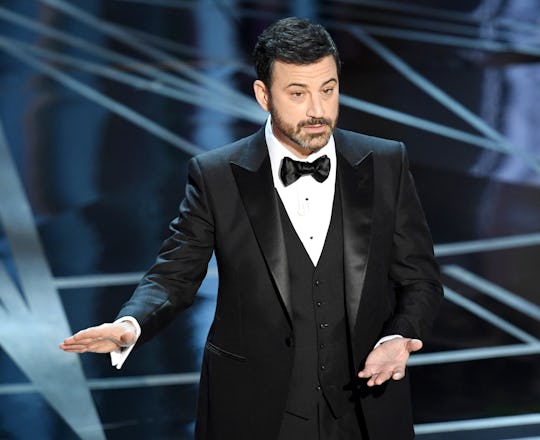 Kevin Winter/Getty Images Entertainment/Getty Images
Jimmy Kimmel Quoted Trump's Meryl Streep Tweet
There are no boundaries at this year's awards shows. Things have gotten political, they've gotten emotional, and even a bit heated. So it was no surprise when Jimmy Kimmel quoted Donald Trump's Meryl Streep tweet at the 2017 Oscars on Sunday night. The late night host wasted no time at 89th annual Academy Awards, blasting the president's comments from last month and had the crowd give the "underrated actress" a standing ovation.
"We're here to honor the actors who seem great, but actually really aren't," Kimmel said during his opening monologue. "And of all of the 'great' actors here in Hollywood, one in particular has stood the test of time for her many uninspiring and overrated performances."
The camera then focused on Streep, who was hiding her face while the audience erupted in applause and laughter. Kimmel continued to mock Trump's infamous tweet by complimenting her "mediocre early work" in The Deer Hunter and Out Of Africa as well as her "underwhelming performances" in Kramer vs. Kramer and Sophie's Choice.
"Meryl Streep has phoned it in for more than 50 films over the course of her lackluster career," Kimmel quipped. "Everybody please join me in giving Meryl Streep a totally undeserved round of applause." And they did.
Last month, Trump tweeted that Streep was "one of the most over-rated actresses in Hollywood" and a "Hillary flunky" after the actress used her acceptance speech at the Golden Globes last month to speak about the current political climate and the POTUS' alleged actions without ever mentioning his name.
"There was one performance this year that stunned me," Streep said as she accepted the Cecil B. DeMille Award last month, according to The Washington Post. "It was that moment when the person asking to sit in the most respected seat in our country imitated a disabled reporter. Someone he outranked in privilege, power and the capacity to fight back. It kind of broke my heart when I saw it. I still can't get it out of my head because it wasn't in a movie. It was real life."
Streep was referring to the moment when Trump mocked a disabled reporter on the campaign trail in late 2015. Watch the passionate speech below:
The following Monday morning, Trump took to Twitter to address Streep's Golden Globes speech, defending himself in a three-tweet rant:
Given the current political climate and tense relationship between the White House and Hollywood liberals, as well as the press, it wasn't a surprise that Kimmel would get a bit political. Even though the nation is very divided right now, his dig at Trump was a brilliant way to get things started while addressing the elephant in the room.