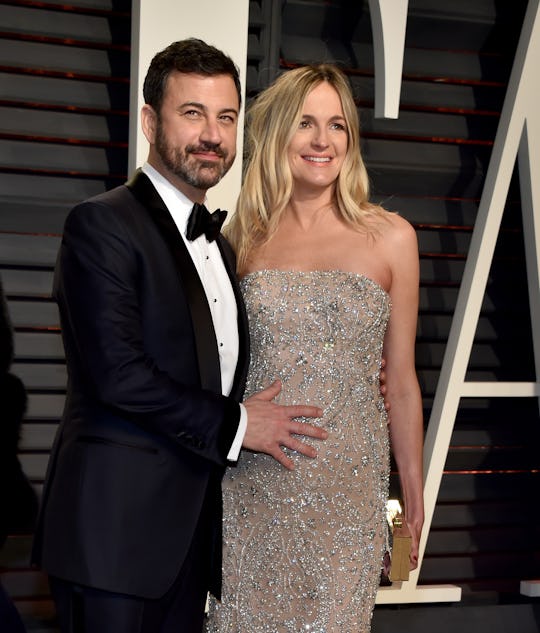 Pascal Le Segretain/Getty Images Entertainment/Getty Images
Jimmy Kimmel Tearfully Shares His Son's Story
It's been a busy year for Jimmy Kimmel, late show and award show host and — as of a little over a week ago — a second-time father. In the opening monologue for his show Monday night, the comedian announced that he and his wife had welcomed a son — but not everything had gone smoothly. Jimmy Kimmel revealed his newborn son's serious heart condition in an emotional monologue. He spoke of his son's condition as it relates to the vital need for adequate health insurance coverage.
Fighting back tears, Kimmel began his story by announcing that he and his wife Molly welcomed a son named William — their second child together — on April 21. While the delivery went off without a hitch, a few hours after their son was born, one of the nurses looking after them noticed something odd. Billy (as Kimmel's son has been dubbed) appeared to have a heart murmur, and his skin had taken on a purple tone that wasn't normal. The doctors at Cedars-Sinai, where the baby was born, figured out pretty quickly that Billy wasn't getting enough oxygen. After more tests, doctors were able to determine that the baby had been born with a congenital heart defect called pulmonary atresia.
According to the CDC, this defect occurs in about 1 in 10,000 births in the U.S. Because of a structural defect, blood has a hard time getting to the lungs where it can pick up oxygen. Depending on how severe it is, babies born with this condition will need medication or even surgery. The latter was true for Kimmel's son, who had an additional heart defect that made his condition quite serious. The baby was taken to Children's Hospital Los Angeles for the procedure, and Kimmel expressed his admiration and gratitude for the surgeons who "went in there with a scalpel and did some kind of magic I couldn't even begin to explain."
Billy's first surgery was a success, but Kimmel said he'll need another in a few months, and will likely need a third procedure when he's older. The whole family was able to come home less than a week after the surgery, and the recovery is going well. Kimmel thanked, by name, all of the doctors and nurses who saved his son's life.
He also took the opportunity to directly call out the health care plan proposed by the Trump Administration, as well as spending cuts that would impact a wide variety of health and medicine related agencies:
President Trump last month proposed a $6 billion cut in funding to the National Institutes of Health and thank God our Congressmen made a deal last night to not go along with that. They actually increased funding by $2 billion and I applaud them. More than 40 percent of the people who would have been affected by those cuts to NIH are children and it would have had a major impact on a lot of great places, including Children's Hospital Los Angeles.
He then went on to add:
If your baby is going to die and it doesn't have to, it shouldn't matter how much money you make. I think that's something, whether you're a Republican or a Democrat or something else, we all agree on that. Whatever you believe, whoever you support, we need to make sure the people who are supposed to represent us understand this very clearly. Let's stop with the nonsense. This isn't football. There are no teams. We are the team. Don't let partisan squabbles divide us on something every decent person wants. We need to take care of each other.
Kimmel also gave a light-hearted look into how Billy's older sister Jane, 2, feels about her new brother. Kimmel reported that in accordance with sage parenting wisdom, he and Molly bought Jane a gift and said it was "from the baby" — which Kimmel found preposterous: "Not only doesn't he have any money, he doesn't have a place to put any money! He has no wallet!" Kimmel laughed, "As far as she knows, the baby is signed up for Amazon Prime."
On the subject of money, Kimmel also encouraged his viewers to donate to Children's Hospital Los Angeles, which you can learn more about here.