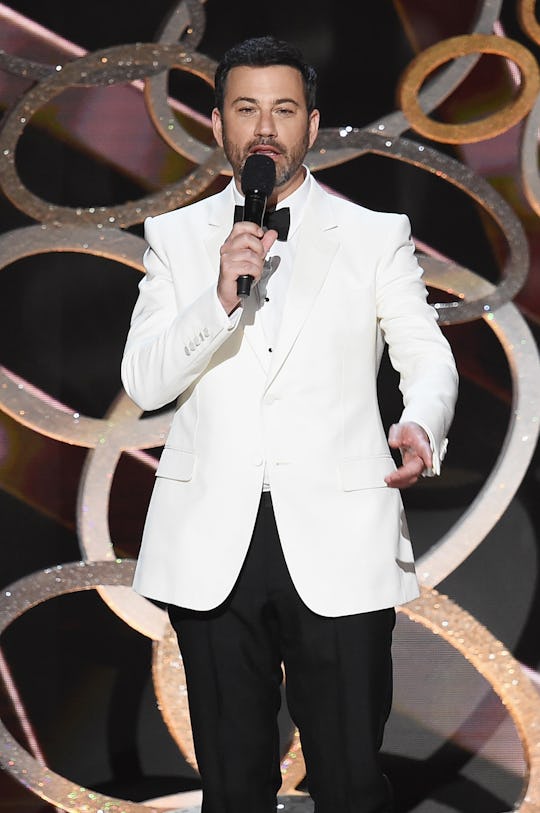 Kevin Winter/Getty Images Entertainment/Getty Images
Jimmy Kimmel Will Host The 2017 Oscars & It's A Great Move By The Academy
Believe it or not, the awards season is right around the corner, which means it's time to start placing your bets on who out of Hollywood's finest are going to walk away with another really expensive paperweight for their respective projects. But in order for an awards ceremony to go off without a hitch, you need just the right host for the job and it seems the Academy Awards has found the perfect person for the job. It was announced on Monday that Jimmy Kimmel will host the 2017 Oscars and quite honestly, it's a really smart decision.
Of course, Kimmel is no stranger to performing in front of a live audience. He's had major success in his late night hosting gig titled Late Night With Jimmy Kimmel. Not to mention that this isn't by far the only awards show hosting gig he's ever had. In fact, it was just earlier this year that he hosted the 2016 Emmy Awards, where he did an incredible job of balancing humor and respect — a fine line which many hosts before him have struggled with in the past. Kimmel also hosted the 2012 Emmys as well, proving that he has a real knack for this sort of thing. So it was only a matter of time until he got prompted to reign over Hollywood's biggest night.
This upcoming ceremony will serve as the 89th Academy Awards and is scheduled to air live on ABC on Feb. 26, 2017, so Kimmel still has plenty of time to work on his opening monologue, which is bound to include some very prominent topics, including but not limited to the country's new President by that time, President-elect Trump. I'm sure Kimmel will have some thoughts on the matter.
Then there's also the difficult task of keeping things running smoothly without making viewers feel bored. The Oscars is known for being a long ceremony, so it'll be good to have Kimmel's humor to help break up some of the award speeches. But if anyone is up to the task, I know it's him. I mean, we are talking about the guy who's responsible for numerous hilarious skits, including his annual Halloween candy prank on kids as well as his star-studded trailer for Movie: The Movie.
Suffice to say, this guy knows how to bring the funny and he's sure to make the 2017 Academy Awards an unforgettable night.