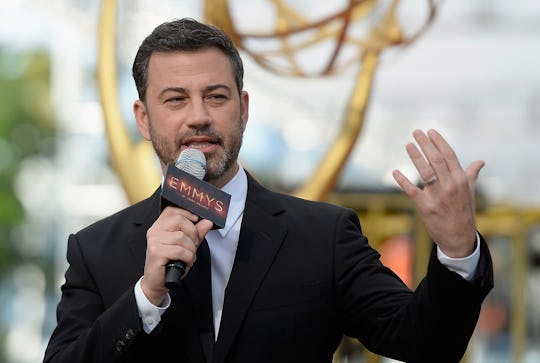 Kevork Djansezian/Getty Images Entertainment/Getty Images
Jimmy Kimmel's 2016 Emmys Diversity Comments Were Right On Point
On Sunday night, host Jimmy Kimmel opened up the Emmys by asking the crowd if they were ready to make the "Emmys Great Again." But Jimmy Kimmel's 2016 Emmys monologue was all about diversity... and mocking the lack of diversity in Hollywood. Kimmel wasted no time in pointing out all of the flaws in the entertainment business. He joked that, "in Hollywood, the only thing we value more than diversity is congratulating ourselves for how much we value diversity."
It was pretty perfect, in terms of a mainstream Emmys host trying to get some laughs. Kimmel went right in as soon as he took the stage by handing Jeffrey Tambor an Emmy, who happened to be sitting in the crowd. The subtext was that of course Jeffrey Tambor would win every award his show Transparent was up for Sunday. Because award shows love diversity.
But then Kimmel dug right in. There's a saying that comedy is a perfect mix of tragedy and time and on Sunday, the ongoing tragedy of #OscarsSoWhite made for some good jokes when it came to the television awards.
Kimmel joked that the Emmys were the most diverse than any other awards show. It's sort of true, since there are 21 non-white actors nominated for Emmy awards, according to The Hollywood Reporter. Which, when you think about it, is not really all that diverse. Kimmel hit that perfect balance that only comics can hit and make a terrible thing sort of funny. Kimmel said that the Emmys were, "so diverse the Oscars are saying we're they're friend." It's a sad truth about how systematically racist the entertainment world can be.
After making jokes about how totally white the Emmys are — even though no hashtag campaign surrounded the broadcast like the 2016 Oscars — Kimmel still killed his monologue calling out a lot of hypocrisies about the business. He joked about FX's The People v O.J. Simpson: American Crime Story and got a lot of other easy laughs, but diversity was on his mind all night.
Azis Ansari and Alan Young won the award for Best Comedy Writing for Masters of None shortly after Kimmel's monologue and begged for Asian families to get their children into entertainment. Kimmel came back on stage and joked that after that kind of speech, there was almost "too much" diversity at the Emmys this year. Har, har.
Maybe Kimmel is right. Television is so all over the place these days (we don't even watch TV on a TV sometimes) that the awards for them are bound to be more interesting than the Oscars, celebrating old school Hollywood. Kimmel set the tone for a a good conversation at the awards show on Sunday. If that's what comedy can do, let's hope Kimmel gets more chances to moderate.