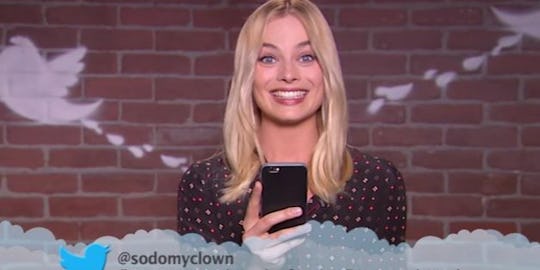 Jimmy Kimmel's "Mean Tweets" With Margot Robbie & More Might Be The Best One Yet
"Mean Tweets," a segment that debuted on Jimmy Kimmel Live! back in 2012, is deceptively simple but still so, so hilarious. The gist is straightforward as could be: The late show host rounds up a group of famous people and has them read mean things that Twitter users have tweeted about them aloud. It's such a simple set-up for a joke and yet it's consistently so damn funny. But Jimmy Kimmel's Mean Tweets with Margot Robbie and more celebrities might be the best installment yet.
We were particularly excited to see this edition of Mean Tweets, after a two month Mean Tweets-drought – the last segment debuted nearly two months ago, back in June, when Kimmel rounded up a group of YouTube content creators to partake in the self-roasting ritual.
The latest edition, featuring Robbie and several other very famous faces, was the 10th in the series (excluding the "special editions," like the Creator Edition, Movie Edition, and Music Edition). Kimmel rounded up a pretty flawless group of celebs to read and react to some of the nastiest insults slung at them on the great wide interwebs. From Hugh Grant to Chris Evans to Margot Robbie, each of the actors' reactions ran the gamut from legitimately insulted and perturbed to bemused. It featured a few Mean Tweets vets (like Bryan Cranston, who's always a really good sport about it), and a few new faces as well.
Overall, the entire segment was hilarious but there were a few particularly rough tweets that elicited huge, belly-shaking LOLs from us this time around.
Hugh Grant
Hugh Grant has had a notoriously rough time with his public image over the years. You just can't help but laugh at his wondering whether the tweets are real or made up to be particularly cruel. Does that make me a bad person? Maybe. Whatever.
Kate Hudson
Sometimes, a mean tweet is just so perfectly descriptive that you can't help but guffaw. That's what happened when Kate Hudson read hers.
Olivia Wilde
I can't quite believe that anyone tweeted anything negative about the gorgeous Olivia Wilde, but Wilde remains pretty neutral in response to this tweeter's big-forehead jab. We've gotta give the tweeter points for descriptive hilarity, though.
Paul Rudd
I'm not really sure why JoeyPizzaKing thought this qualified as a "boring" insult. Having a bland spaghetti dinner with Paul Rudd kind of sounds like the best thing ever.
Bryan Cranston
The ever-adorable and ever-hilarious Cranston took this (again, not necessarily mean) tweet and ran with it, flawlessly delivering Matthew McConaughey's iconic "Alright, alright, alright" line and segueing right from that to Jim Carrey's classic "Alrighty then!"
Tweets That Weren't Actually Mean But Were Really, Really Sexual
Not to get all ~technical~ on this segment, but Robbie's and Norman Reedus' tweets weren't actually mean, per se. In fact, they weren't insults at all – they were super, over-the-top crude sexual propositions. But I guess having a separate segment called "Over-The-Top Crude Sexual Tweets" doesn't roll off the tongue quite as well as Mean Tweets.
Check out the full video below, and decide yourself if this is one of the best in the series.