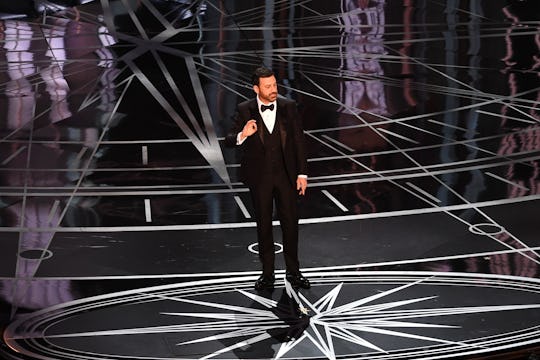 Kevin Winter/Getty Images Entertainment/Getty Images
Jimmy Kimmel Pokes Fun At Mel Gibson At The Oscars
The 2017 Oscars kicked off on Sunday night, and host Jimmy Kimmel gave some proper laughs all around — although of course, to no one's surprise, things got a bit controversial. During his opening monologue, Kimmel poked fun at many celebrities, including Mel Gibson. But it was Kimmel's Mel Gibson joke at the 2017 Oscars that had everyone laughing, albeit a bit uncomfortably. This year, Gibson was up for best director, for the film Hacksaw Ridge, which stars Andrew Garfield, and Kimmel wasn't just going to let the opportunity to have some fun with him in the front row slide by him.
After already speaking to how divided our nation is right now, Kimmel joked, "There's only one Braveheart in this room, and he's not gonna unite us either." Obviously, Kimmel was referencing Gibson's famed movie of the same name, and very controversial statements in the past, but he wasn't done. Kimmel also went on to comment on how good Gibson was looking lately, saying, "I think the Scientology is working." And while Gibson laughed along with the crowd, it was definitely a little awkward for everyone watching. Gibson is no stranger to awkwardness, or controversy, but Kimmel's jokes proved that maybe (maybe?) time really does move on.
Gibson himself is not a Scientologist, with even Brad Pitt referring to his film, The Passion of the Christ, as being horribly anti-Semitic. But that's not Gibson's only bout with controversy. He has also received a lot of flack for his troubled past when it comes to relationships.
Gibson isn't really a Hollywood favorite, and has also been accused of (and admitted to) domestic abuse on more than one occasion. So, really, can anyone blame Kimmel for taking the jabs while he had the opportunity in front of him? Twitter didn't, really. In fact, users seemed to be having a blast with the host's jabs, and took no issue with poking their own jokes at the actor and director.
Gibson's film, Hacksaw Ridge, is nominated for several categories tonight, even though he himself isn't even confident in his ability to win, according to The Washington Post:
"I don't think so," he admits when Michael Strahan points out that he could claim the trophy. "But I'm happy to be here." He says that in this case, during his "comeback," his nomination is basically a win: "It's my peers recognizing a piece of work."
Kimmel may be joking, and those jokes may be awkward as hell, but at least Gibson is taking it in stride. Thank goodness.