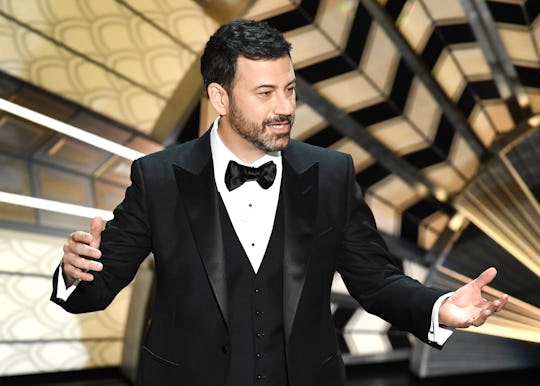 Kevin Winter/Getty Images Entertainment/Getty Images
Jimmy Kimmel Addresses His Son's Health In New Monologue
Last week, late night host Jimmy Kimmel shared some good news and some bad news with viewers: he and his wife had welcomed a beautiful new baby boy, Billy, into their family, but Billy was born with a congenital heart condition called pulmonary atresia. Visibly emotional, Kimmel took the chance to highlight exactly why families with babies like Billy need health care that works for them. After the show aired, several people came after Kimmel for his words, but not to worry: Jimmy Kimmel's new monologue about his son and health care this week tackled the haters with nothing but poise (and, okay, a bit of scathing wit).
After thanking donors and updating viewers on his son's health — don't worry, folks, Billy is doing great and has a gorgeous smile — Kimmel settled in to take on the criticism he'd received over the past week. He started off with a heartfelt (read: very sarcastic) apology.
"I would like to apologize for saying that children in America should have health care," he said. "It was insensitive, it was offensive, and I hope you can find it in your heart to forgive me."
Kimmel went on to explain that he'd been called an "out-of-touch Hollywood elitist creep" a surprising number of times recently — criticism that actually overjoyed him, considering he grew up in a family without much money to go around. "My dream was to become an out-of-touch Hollywood elitist, and I guess it came true!" he said on Monday night.
However, Kimmel didn't stick to witty comebacks alone. Over the course of his monologue, he went on to dismantle former Speaker of the House Newt Gingrich's criticism of his show last week, after Gingrich told Fox News that emergency room care would never be denied to a newborn baby.
"Yes, it is true that if you have an emergency, they will do an operation, and that's terrific if your baby's health problems are all solved during that one visit," Kimmel said. However, as any parent who has had a chronically sick child knows, it's rare to have everything taken care of in a single visit. Kimmel continued:
That never, ever happens. We've had a dozen doctors' appointments since our son had surgery — you got a cardiologist, the pediatrician, surgeons, some kids need an ambulance to transport them. That doesn't even count the parents who have to miss work for all of this stuff. Those details Newt forgot to mention.
Kimmel also invited Republican Sen. Bill Cassidy of Louisiana onto his show to discuss the "Jimmy Kimmel test," which the senator previously said was necessary for any new health care program that passed the Senate. While Cassidy said that Trumpcare could be modified to meet Kimmel's needs, Kimmel suggested not giving tax cuts to millionaires and to instead just "leave it how it is." Because, as he explained, "No family should be denied medical care, emergency or otherwise, because they can't afford it."
Both Cassidy and Kimmel suggested viewers call their senators to make their voice heard, which seems like fairly solid advice. You can watch Kimmel's entire monologue online, then head over to the Senate website to find your senators' contact information if you're interested in sharing your opinion on health care reform.