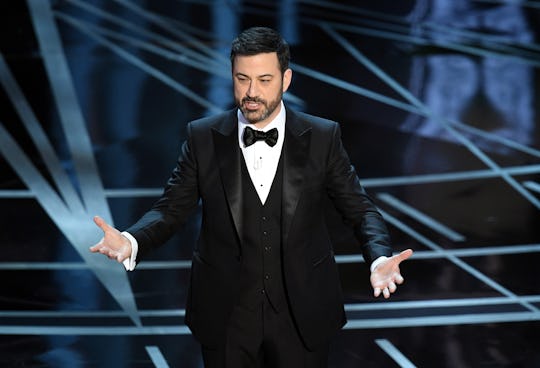 Kevin Winter/Getty Images Entertainment/Getty Images
Jimmy Kimmel's Oscars Tweet To Trump Broke Twitter
During the 2017 Oscars, host Jimmy Kimmel peppered his monologue with several Donald Trump jokes, and he was also eagerly awaiting Trump's reply. When Trump hadn't replied two hours into the ceremony, Kimmel decided to check in on him with a few tweets. And despite the fact that they were posted literally minutes ago, Jimmy Kimmel's Oscars tweet to Donald Trump are already breaking Twitter. They've been liked and retweeted thousands of times in the span of just a few minutes.
Kimmel had his tweets to Trump put up on the big screen so everyone sitting in the audience both at the theatre and at home could watch him tweet in real time. The first was a simple inquiry to see if Trump was awake; since he hadn't responded in the hours since Kimmel first mentioned him, naturally Kimmel wanted to make sure Trump hadn't missed his opening remarks because he was taking a nap. Then Kimmel followed up with another tweet, just a quick little hashtag to convey greetings from Meryl Streep, who Trump very recently called "overrated" after she spoke about him at the Golden Globes. Though Kimmel passed along Streep's hellos without asking, he did check in with her just after hitting send. Apparently it was okay with her.
Kimmel's tweets were seized upon so rapidly by Twitter it was truly impressive. It barely took any time at all for his simple tweets to reach a huge amount of people and receive thousands of replies. However, despite how many people were seeing and commenting on Kimmel's tweets, there was one person who was much slower to notice or reply: Donald Trump. It's possible he's not up, after all.
The most recent tweet on Trump's timeline was from several hours before the Academy Awards began and had nothing to do with the ceremony. He only mentioned the Governor's Ball going on at the White House at the same time as the Oscars, which was likely the real reason he wasn't available to respond to Kimmel's tweets.
However, many Twitter users knew it was only a matter of time until Trump did reply to Kimmel's comments. They even provided some appropriate gifs from SNL that imagined what could possibly be going on in the White House at this very moment.
It may not happen while the Oscars are still airing, but Trump's response (whatever it ends up being) is definitely something everyone is waiting to see.