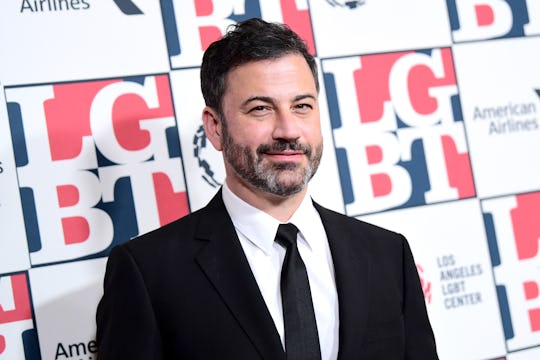 Emma McIntyre/Getty Images Entertainment/Getty Images
Jimmy Kimmel's Photo Update On His Son Billy Will Melt Your Heart
It's no secret that Jimmy Kimmel's world was rocked when, shortly after welcoming his second child with wife Molly McNearney, it was discovered their newborn had a congenital heart defect. In fact, the talkshow host delivered a moving monologue back in May that detailed the scary events that followed. Well now, Jimmy Kimmel's photo update on his son, Billy, will melt your heart.
The 49-year-old host of Jimmy Kimmel Live posted an awww-worthy picture of baby William "Billy" John Saturday, marking the little one's half birthday. This precious shot — shared on both Instagram and Twitter — features Kimmel's son chillin' in a stroller while sporting an irresistibly toothless grin. (And let's not forget he had his Sophie the Giraffe teether, along with a burp cloth with "Billy" embroidered on it.) Kimmel captioned the photo, with, "Billy is 6 months old today. He is healthy and happy and we are all very grateful for your prayers, good wishes, thoughts and support of @ChildrensLA and children's hospitals in your area."
Mere hours after Billy's April 21 birth, he was diagnosed with Tetralogy of Fallot with pulmonary atresia, according to USA Today. Billy underwent open heart surgery just three days after he was born, reports People, and in August, Kimmel said that his son would still need to have two more procedures in the future. "We would like to get [the surgeries] over with and not have to think about it all the time, but it could definitely be worse," Kimmel said, according to People.
Kimmel revealed the birth of his second child with Molly McNearney on Jimmy Kimmel Live back in May, when he also delivered a moving monologue about how proposed health care reforms would affect children like Billy. Fighting back tears, he said:
If your baby is going to die and it doesn't have to, it shouldn't matter how much money you make. I think that's something, whether you're a Republican or a Democrat or something else, we all agree on that. Whatever you believe, whoever you support, we need to make sure the people who are supposed to represent us understand this very clearly. Let's stop with the nonsense. This isn't football. There are no teams. We are the team. Don't let partisan squabbles divide us on something every decent person wants. We need to take care of each other.
Kimmel has continued to bash proponents of Trumpcare — particularly those who have supported legislation that would roll back measures protecting people with pre-existing conditions. Like the Graham-Cassidy bill, for example. The talkshow host actually invited Sen. Bill Cassidy of Louisiana to appear on Jimmy Kimmel Live, where he essentially lied to Kimmel's face when asked whether he believed everyone should have health care access, despite their ability to pay. "Yep," Cassidy answered simply. Never mind that the Graham-Cassidy bill directly contradicted this statement. Thankfully, the controversial bill never even made it to voting in the Senate.
"Thanks to all who stood up and spoke out from this happy guy and his less-fortunate friends #GoodbyeGrahamCassidy," Kimmel wrote on Instagram, following news of the bills failure.
Despite his outspoken disdain for recent Trumpcare fiasco's, Kimmel has admitted he's felt conflicted about being so open about Billy's health struggles. Just last week, Kimmel revealed he regrets sharing publicly details of his son's heart condition. The father of two opened up about how disclosing this information to the world has affected him, according to an interview with The New York Times. Kimmel explained, according to ET Online:
What I didn't think through was that, everywhere I went, every day of my life, people would be asking me how my son is doing. But thank God I can say he's doing well. If that wasn't the case, each day would be very, very painful.
I greatly admire Kimmel's courage in sharing Billy's life-threatening health concerns. Although I've never been in his position — having an infant with a congenital heart condition — I'd imagine it wasn't easy for Kimmel to be so open about it. With that said, I'm so glad Billy seems to be doing better. And judging by this most recent photo, the 6-month-old is obviously a happy little dude.