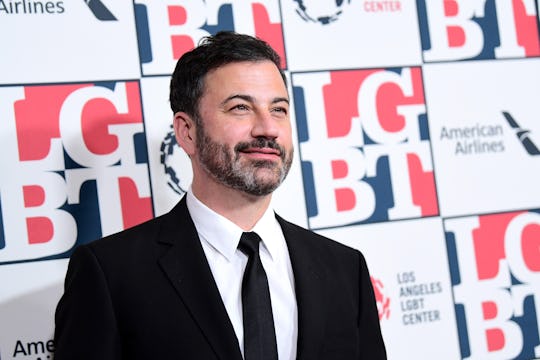 Emma McIntyre/Getty Images Entertainment/Getty Images
Jimmy Kimmel's Response To Las Vegas Is What Hardcore Gun Rights Activists Need To See
Following the tragic events in Las Vegas, our nation mourned the loss of more than 50 innocent victims at the hands of yet another mass shooter. And late-night talkshow hosts didn't shy away from politics surrounding the massacre. Among the powerful monologues last night, Jimmy Kimmel's response to Las Vegas is what anti-gun safety politicians really need to hear.
Shots began at around 10 p.m. local time on Sunday from the 32nd floor of the Mandalay Bay Hotel and Casino — and ended with at least 59 victims estimated dead, along with 515 injured, according the Los Angeles Times. In the wake of the deadliest mass shooting in U.S. history, we're still asking ourselves Why? Why did a 64-year-old man open fire on a crowd of more than 22,000 concertgoers in Las Vegas? Why does this keep happening? Why aren't we doing something to prevent this type of violence?
Jimmy Kimmel fought back tears as he began his moving monologue last night on Jimmy Kimmel Live!
This morning, we have children without parents and fathers without sons, mothers without daughters. We lost two police officers. We lost a nurse from Tennessee. A special-ed teacher from a local school here in Manhattan Beach. It's the kind of thing that makes you want to throw up or give up. It's too much to even process — all these devastated families who now have to live with this pain forever because one person with a violent and insane voice in his head managed to stockpile a collection of high-powered rifles and use them to shoot people.
Kimmel continued to get choked up over the act of terror in his 10-minute monologue. He spoke of the victims who will never go home to their families. He called out government officials on their unwillingness to take action on gun violence. Among those on the receiving end of his harsh criticism were President Donald Trump, House Speaker Paul Ryan, and Majority Leader Mitch McConnell, according to Us Weekly:
[Trump] spoke this morning, he said he was praying for those who lost their lives. You know, in February, he also signed a bill that made it easier for people with severe mental illness to buy guns legally. The Senate majority leader, Mitch McConnell, the speaker of the House, Paul Ryan, a number of other lawmakers who won't do anything about this because the NRA has their balls in a money clip, also sent their thoughts and their prayers today, which is good. They should be praying. They should be praying for God to forgive them for letting the gun lobby run this country. Because it is ... so crazy.
Dying to get your hands on the full transcript of Kimmel's emotional speech? Well, you're in luck: The Washington Post has it right here for you. You can also watch in the video, below.
Kimmel wasn't alone in pleading with politicians to take action on gun safety laws. Stephen Colbert, Trevor Noah, James Corden, and Seth Myers all offered their impassioned takes on the matter. For the most part, though, Fallon opted to skip the politics and instead The Tonight Show opened with Miley Cyrus and Adam Sandler singing a tribute to victims of the Las Vegas shooting.
Those who are against gun safety legislation may argue that this isn't the time to talk politics. That we should be focused on offering "our thoughts and prayers" and stop politicizing tragedies. But to me, we would be doing the victims and of these mass shootings and their families an injustice by not starting a discussion. How do we make it harder for people to get their hands on automatic rifles? Because acts of terror just like Los Vegas — and Orlando and Charleston and Newtown — will keep happening if we sit around and do nothing.
Watch Romper's new video series, Romper's Doula Diaries:
Check out the entire Romper's Doula Diaries series and other videos on Facebook and the Bustle app across Apple TV, Roku, and Amazon Fire TV.