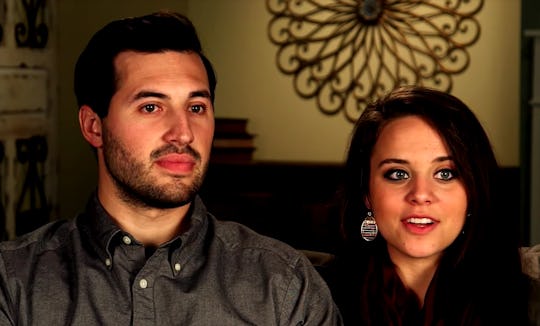 TLC/ YouTube
Jinger Duggar & 3-Month-Old Felicity Are Totally Twinning In This Adorable New Photo
By now, Jinger Duggar is probably used to being compared to others; the star of TLC's hit series Counting On grew up in a house with 19 siblings, so she's probably been compared to her brothers and sisters her whole life. But if there was ever a time for a comparison to made, it's right now. In fact, Jinger Duggar's new "like mother, like daughter" photo with her daughter Felicity officially confirms that the 3-month-old is really the spitting image of her mama.
Every time Jinger posts a picture of (or with) baby Felicity, her fans and followers immediately gather in the comments of the photo, marveling at how much she looks like her daughter and how adorable she is. But this time, Jinger kicked it up a notch and decided to match her daughter's accessory in her most recent Instagram photo shared this week.
In the photo — which she simply captioned, "Like mother, like daughter" — Jinger can be seen holding her 3-month-old daughter, looking down at her dotingly. Although both mom and baby are wearing different outfits, their ensembles do share one thing in common: their matching headbands. In the photo, Jinger and Felicity are wearing the same stretchy floral headband and the result is too adorable.
And Jinger's fans sure seem to agree, taking to the comments of the photo to share their thoughts about this pair of "twins."
"You two are so cute!" one person commented.
"She's adorable, just like her mama!" another added.
"She is her mommy's twin for sure," one more stated.
Fans are also dying to know where Jinger got her and Felicity's matching head wraps, so they too can #twin with their own kids. Although Jinger did not tag the company where she got her headbands from, there are plenty of businesses on Etsy that sell adorable matching "mommy and me" headbands. For instance, one seller on Etsy even sells headbands in a similar floral pattern like Jingre and Felicity's, so moms can purchase a headband that is almost identical to the duo's.
Really, baby Felicity looks so much like her mom, and this latest photo of them matching proves that. And, fortunately, Jinger's husband, Jeremy Vuolo, seems perfectly OK with that. From the time Jinger first announced her pregnancy, Jeremy stated that he wanted their baby to look like his wife. According to People, Jeremy said in the pregnancy announcement:
I am praying that the baby will look like, act like, talk like, be like Jinger, and I've asked everyone to pray as well. I was a little terror as a child, so I'm hoping that the little one will be as much like Jinger as possible.
After Felicity was born, however, Jinger told Us Weekly that she thought their daughter looked exactly like Jeremy. "You should see their baby pictures side by side," Jinger told the publication in July.
But, really, no matter who Felicity looks like more, everyone can agree that she is one cute kid.