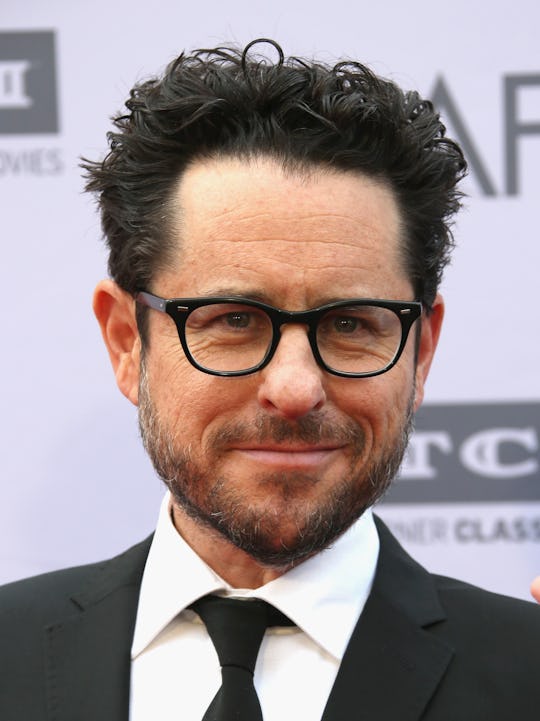 Frederick M. Brown/Getty Images Entertainment/Getty Images
J.J. Abrams Calls Carrie Fisher Brilliant & Tough
Mourning the loss of the iconic writer and actress, many friends and colleagues have already expressed their sadness upon hearing that Carrie Fisher passed away Tuesday morning at 60 years old. (Fisher died after being hospitalized in Los Angeles. She'd experienced a heart attack while flying from London just days earlier.) J.J. Abrams' reaction to Carrie Fisher's death in particular offered up an emotional and heartfelt memory of a "brilliant" woman, as well as undue praise for Fisher's incomparable creativity, as informed by his directing her on 2015's Star Wars reboot, The Forces Awakens. His words aim to celebrate Fisher, not just in her role as General Leia Organa (formerly known as "Princess"), but also in the lightness that she constantly brought to those around her.
Abrams has openly praised Fisher's mind repeatedly in the past. "It's an amazing thing, her sort of free-associative mind, her ability to find humor in anything — she's like a divining rod for wordplay. She's incredible," he told Entertainment Weekly last year. He also shared that, while shooting Star Wars: The Force Awakens, her presence was vital, saying "it felt historic to have her."
Fisher's well-known sense of humor was also fundamental to setting the tone on-set, with Abrams insisting that the movie was a joy to make partly "[due to] the fact that people as funny as Carrie Fisher were simply there." Praising Fisher in an interview with E!, Abrams asserted: "I mean she is spectacular and as funny as you could imagine and a real treat to work with as well."
Abram's statement following Fisher's death on Tuesday also elaborated on his deep respect for Fisher.
In a statement posted to his production company's official Twitter account (Bad Robot), Abrams said,
You didn't need to meet Carrie Fisher to understand her power. She was just as brilliant and beautiful, tough and wonderful, incisive and funny as you could imagine. What an unfair thing to lose her. How lucky to have been blessed with her at all.
Previously, in working with Fisher, Abrams insisted that Fisher's newly-promoted General Leia be met with good company. "We knew that, in addition to Leia who was a critical piece of this puzzle, we wanted to have other women – not necessarily human, but female – characters in the story," Abrams shared at a The Force Awakens press conference. Thus, the two committed to the ever important cause of increasing female representation in film, showing that things really have changed since Leia was pretty much alone in the galaxy.
Through out her life, Fisher battled drug abuse and mental illness, rising above these hinderances and translating the struggle into art and advocacy. She wrote a number of books, the most recent being The Princess Diarist, where she revisited her Star Wars days with sharp, frank perspective.
As Abrams's thoughts remind, Fisher's honesty, humor, and incredible mind have resonated with so many others, making her loss deeply felt.