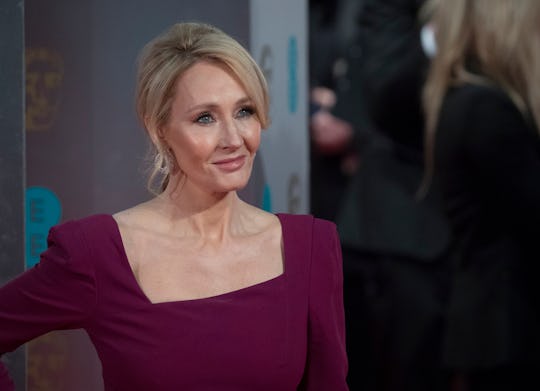 John Phillips/Getty Images Entertainment/Getty Images
J.K. Rowling Claps Back At Donald Trump Again
We're not even halfway through the year, and J.K. Rowling has already had a fairly busy 2017, to say the least. The author has been working on two new books, watching her magical empire grow with the booming success of both Harry Potter and the Cursed Child and Fantastic Beasts and Where To Find Them, and she's quietly become Twitter's new queen of the clap back — especially when it comes to taking down President Trump. Most recently, Rowling criticized Trump with an Alice in Wonderland quote, proving she certainly has a way with words. And burns.
After Trump fired off a string of tweets on Friday that threatened to cancel press briefings and accused the media of being "fake," Rowling tweeted a snapshot of Trump's tweets along with an Alice in Wonderland quote that solely read:
'I don't think–'
'Then you shouldn't talk,' said the Hatter.
Simple and devastating — and literary, which makes it all the more devastating, really.
This isn't the first social media swing Rowling has taken at Trump. The author has been outspoken in her opposition to the American president for over a year now, saying "Voldemort was nowhere near as bad" as Trump and clapping back readily at Trump supporters who threatened to burn their book and DVD copies of Harry Potter. (Rowling's response? "Well, the fumes from the DVDs might be toxic and I've still got your money, so by all means borrow my lighter.")
Rowling's disapproval of Trump shouldn't be too surprising. Before her writing made her one of the world's wealthiest self-made women, Rowling relied on welfare to support herself and her young son, and her books' themes are proof of her strong commitment to diversity and inclusion.
Somewhat surprisingly, Trump has never responded to Rowling's repeated disapproval of him on social media, despite his usual tendency to respond to celebrities' criticism. (In fact, since he first announced his presidential bid in June 2015, Trump has insulted — among many others — Meryl Streep, Whoopi Goldberg, Ronda Rousey, Alec Baldwin, and John Oliver, all of whom have spoken openly about Trump and his policies.)
If Trump does decide to hit back at Rowling on social media, however, it doesn't seem like the author would be too bothered by it. In January, a Twitter user worriedly replied to Rowling's continued criticism of Trump by saying, "Next he'll be calling you overrated." Rowling responded:
Never forget that some people's good opinion would be more insulting than their abuse!
Hopefully Rowling's ongoing criticism of Trump will serve as inspiration for a new book, full of both scathing sass and political satire. It probably won't happen, but hey, a Harry Potter fan can dream, right?