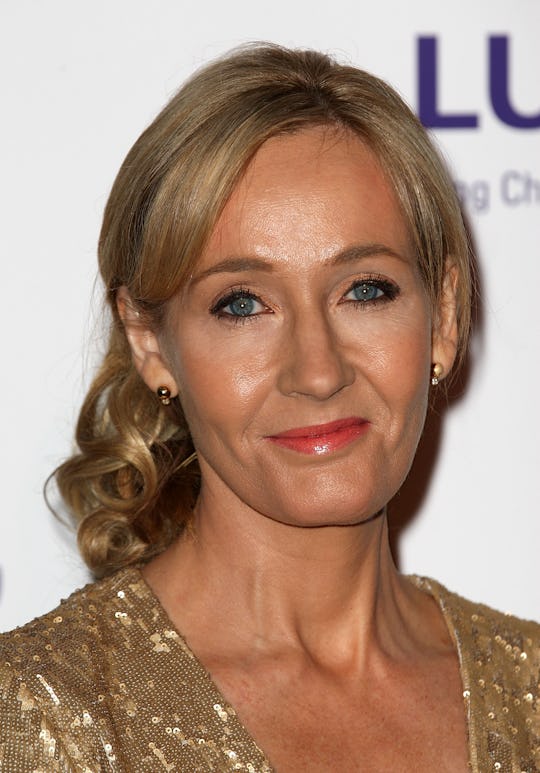 Danny E. Martindale/Getty Images Entertainment/Getty Images
JK Rowling Released A New Story About Garrick Ollivander, & Fans Just Want Their Wands
It's a good day to be a Harry Potter fan: J.K. Rowling release a story about Garrick Ollivander on Pottermore, her super cool, interactive site for all things Harry Potter. The Garrick Ollivander page is a fitting tribute to the beloved Hogwarts wandmaker, and includes not just illustrations and quotes, but also unique details, like an explanation from Rowling of the different types of wand woods (a black walnut wand, for example, "seeks a master of good instincts and powerful insight," according to Ollivander), a breakdown of wand lengths and flexibility, a note on wand cores, a fact file (did you know his birthday is Sept. 25?), and, perhaps best of all, a lovely explanation of Ollivander and his background as a wandmaker. In other words, it's a huge treat for HP fans who are always on the lookout for new information about the wizarding world Rowling created in her books — and, it seems, a super cool way for Rowling to stay engaged with her oh-so-dedicated fans.
Even for someone who hasn't read past the first Harry Potter book (I know, I know), Pottermore's Ollivander page is still pretty intriguing. The characters in the books who have been so beloved to fans basically get brought back to life on this website, which also includes other cool features like creature profiles, behind the scenes photos and news, all sorts of fun Harry Potter listicles, and, of course, an exclusive collection of additional writing by Rowling herself. So, you know, in other words, everything anyone has ever wanted from their favorite author of all time.
Of course, Pottermore isn't the only place you can immerse yourself in everything Ollivander — according to TIME, Universal Studios' Wizarding World park (both the newly-opened Hollywood location and the original Orlando park) includes a true-to-life Ollivanders Shop, where visitors can purchase replica wands from the Harry Potter films (pretty cool).
And, unsurprisingly, Harry Potter fans are kind of totally in love with Pottermore — and in particular, its interactive Sorting Hat feature.
But quizzes and character features aren't the only reason to visit Pottermore — it also provides fans with everything they need to know in the lead-up to the release of the movie version of Fantastic Beasts and Where to Find Them, a Harry Potter spin-off featuring Eddie Redmayne as Newt Scamander. While it might still be a while before fans can actually watch the film (it comes out in theaters Nov. 18, according to Variety), there's plenty of behind-the-scenes info on Pottermore to satisfy their curiosity until then.
If there's one thing that can't be disputed about Rowling, it's that she's definitely invested in her fans. The author is very active on social media, and answers fan questions often, much to everyone's delight? Her latest revelation: her favorite Harry Potter character, according to Entertainment Weekly. When prompted by a fan to reveal the answer, Rowling didn't waver — it's Dumbledore.
Amazing.