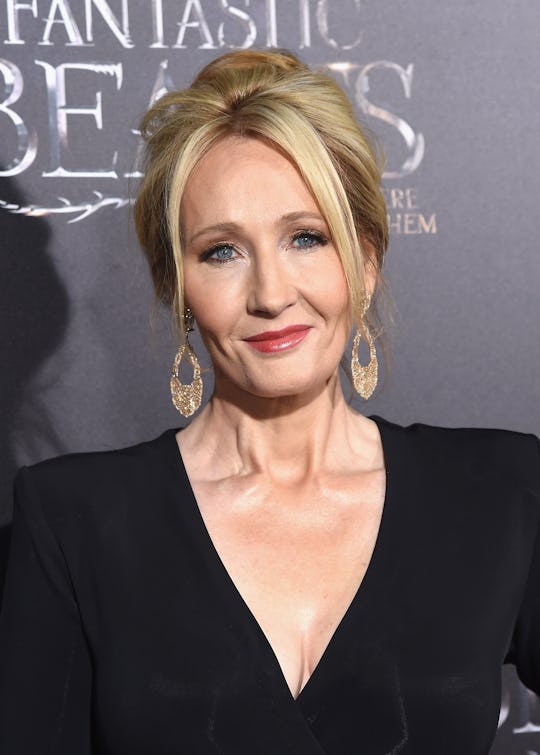 Jamie McCarthy/Getty Images Entertainment/Getty Images
J.K. Rowling's Trump Burn Was Pretty Epic
Last night, Meryl Streep really ruffled President-elect Donald Trump's feathers when she spoke about his upcoming presidency during her Golden Globes acceptance speech for the Cecil B. DeMille Award. This morning, Trump responded with a Twitter rant calling the actor "overrated," prompting many people on social media to leap to Streep's defense. But perhaps the best defense was definitely J.K. Rowling's response to Trump's Meryl Streep rant, if only because it will likely put the Harry Potter author in the lines of Trump's tweet-fire. And then he'll really be in trouble because who can hate on the creator of Harry Potter? (No one, really, in case you were wondering.)
Rowling retweeted a user who wrote that celebs should keep dissing Trump, to keep him busy tweeting responses instead of governing. Rowling responded, "When a pleasure becomes a duty." The user then went back and warned Rowling that soon she'd be the subject of Trump's insults if she kept talking like that. To which Rowling responded, "Never forget that some people's good opinion would be more insulting than their abuse!"
BURN. She basically said that she doesn't want to be on Trump's good side and would rather be called whatever name he could theoretically come up with for her.
Rowling is a brave woman, for sure, because being the target of one of Trump's insult tweet rants draws more negative social media attention than any human being should ever have to deal with. But she's ready if he comes calling.
In addition to Rowling, other celebs have also come to Streep's defense. Not that she needs it, of course, but it's always nice when people have your back. Especially if that person is George Clooney. Clooney told People on Monday at an event for The Clooney Foundation, "I've always said that about Meryl. She's maybe the most overrated actress of all-time."
He was joking obviously.
The actor (and Hillary Clinton supporter) continued, "[Streep] and I worked together on Fantastic Mr. Fox as husband and wife and I will tell you even as a fox, a female fox, she's overrated." Clooney then asked Trump a rhetorical question. "Aren't you supposed to be running the country?," he said. It looks like the only person unable to laugh at themselves around here is Mr. Trump, huh?
In case you forgot about exactly what it was that prompted this backlash, and the subsequent backlash to the backlash, here's a refresher: At the Golden Globes ceremony on Sunday night, after speaking about how Hollywood is full of all sorts of different kinds of people that should be respected, Streep said:
It was that moment when the person asking to sit in the most respected seat in our country imitated a disabled reporter. Someone he outranked in privilege, power and the capacity to fight back. It kind of broke my heart when I saw it. I still can't get it out of my head because it wasn't in a movie. It was real life.
In response, Trump tweeted that Streep was a Hillary flunky, "who lost big." The president-elect added, "For the 100th time, I never "mocked" a disabled reporter (would never do that)."
Hopefully, by the time he gets into the White House, Trump will feel secure enough about his presidency to just let people criticize him without insulting them back. Disagreeing about politics is the most fun part about politics — maybe once Trump gets some experience, he'll figure that out and let people have conversations about his policies.