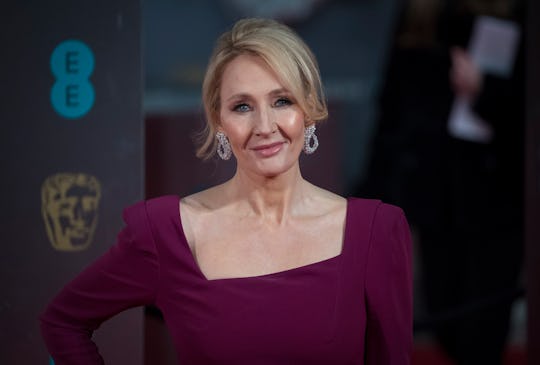 John Phillips/Getty Images Entertainment/Getty Images
JK Rowling Shut Down An American's Argument About Guns In Europe, & People Are Here For It
J.K. Rowling is responsible for putting books into the hands of what is likely many schools around the world with her children's literature series, Harry Potter. Because of her presence in classrooms around the world, especially in America, it's no surprise that Rowling would have thoughts about guns in schools, too. After the tragic shooting that took place in a Florida high school this week, Rowling took to Twitter where she shut down an American's argument about guns in Europe and made such a good point about it.
In the wake of the shooting at Marjory Stoneman Douglas High School in Parkland, Florida, people have been taking to Twitter, pleading with lawmakers to do something about gun control. Although Rowling resides abroad in the United Kingdom, she too, like most Twitter users, has thoughts about the accessibility of guns, especially when it comes to them landing in the hands of teenagers or in school hallways. So when one Twitter user, David Burke, talked about how Europeans react to school shootings (he claimed his European friend asked about security guards in school), Rowling was quick to call him out on how a European would really talk about a school shooting. "Try something a *real* European might say, like, 'We don't have armed school guards,'" Rowling tweeted.
Rowling, who is known for her way with words on the page, should also be just as famous for her way with schooling people — because she hit the nail on the head with her rebuttal.
Needless to say, people on Twitter went wild for Rowling's reply to the tweet, expressing their gratitude for Rowling's words about the need for gun control in the United States.
Some called out the fallacy in the Twitter user's conversation, covering what Rowling didn't say about the school security guards.
Yeah, the Twitter user basically stood no chance with Rowling and her followers.
Even Burke was impressed by Rowling's reply to his tweet.
Rowling has been incredibly vocal about gun control in the United States in the past, calling for a change, fast. When a mass shooting broke out at the Route 91 Harvest Festival in Las Vegas, Nevada, in October, Rowling tweeted out about how how one massacre in Europe led to a widespread gun law reform, according to Entertainment Weekly — and once again, her followers were with her. While polls showed that support for gun control was on the rise after that Las Vegas shooting, according to Newsweek, and Congress briefly debated about gun control, according to the Las Vegas Review-Journal — not much happened in the wake of the shooting. Thus, you can see why both of Rowling's tweets about gun laws in Europe are still so relevant to the conversation, even now.
As Rowling stated, the differences in gun control laws between the United States and other countries are worth nothing. After one shooting in the United Kingdom left dozens dead, according to PBS News Hour, the United Kingdom then "expanded the list of banned weapons" and "increased registration requirements for other weapons." Spain is one of the countries with the most restrictive gun laws in Europe, according to the Library of Congress, and are only granted to "those who need it because of the nature of their duties" — which means that no random person off the street can get a gun just for the sake of protection or harming others.
This is in comparison to the United States, where "Americans own nearly half of the estimated 650 million civilian owned guns" in the entire world, according to CNN. While some bans on firearms exist in the United States, according to PBS News Hour (people under the age of 18 can not purchase a gun), the Supreme Court has strengthened gun rights, according to the New York Times.
It's going to take more than just a few tweets (and the support from others) to make a change to gun policy in the United States (I'm looking at you, Congress). However, Rowling's use of her words and her voice can bring attention to the fact that a change does need to happen and it needs to happen fast — whether it be taking someone down on Twitter or voicing her concern about gun control in the United States. It's clear that her followers are behind her.