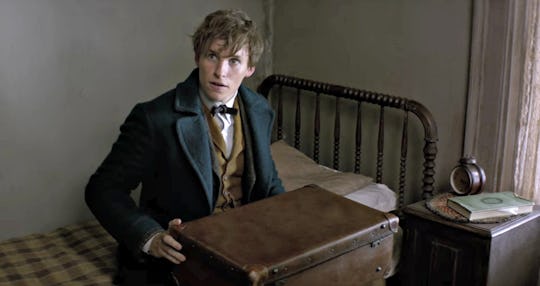 J.K. Rowling Tweeted About The Fantastic Beasts Trailer, & Fans Are Seriously Excited
The woman behind the wizardry is speaking out. J.K. Rowling tweeted about the Fantastic Beasts and Where to Find Them trailer: a delightful reminder that fans will get to step into the world of Harry Potter once again. Rowling wrote, "Thank you for all your #FantasticBeasts messages! It feels wonderful to show you a tiny part of what we've been working on for so long!"
Fantastic Beasts and Where to Find Them was published as a book in 2001, the year after Rowling released the fourth installment of the Harry Potter series. The premise of the written version, according to Amazon, is that it's a field guide to magical creatures; Albus Dumbledore provides the introduction, indicating that the book is in the collection of the Hogwarts library. The "author" of the book is Newt Scamander, the character Eddie Redmayne plays in the movie.
There's a good chance the film adaptation, slated for release Nov. 18, 2016, will be substantially different from the text. While the movie is about Scamander, the book itself is written much more as a straightforward textbook: providing background info on everything from the Acromantula to the Basilisk. Purchases of the book raise funds for Comic Relief, a U.K.-based charity that works to alleviate poverty. Now, the text is coming to life in an entirely new way. Set in New York, the movie will offer fans their first glimpse at the existence of Rowling's magical world in the United States.
The film has been in the works since at least 2013. Fantastic Beasts is Rowling's screenwriting debut.
In response, fans are thanking her for bringing Scamander's story to the screen:
Can it just be November 2016 already?
Image: Warner Bros. Pictures/YouTube