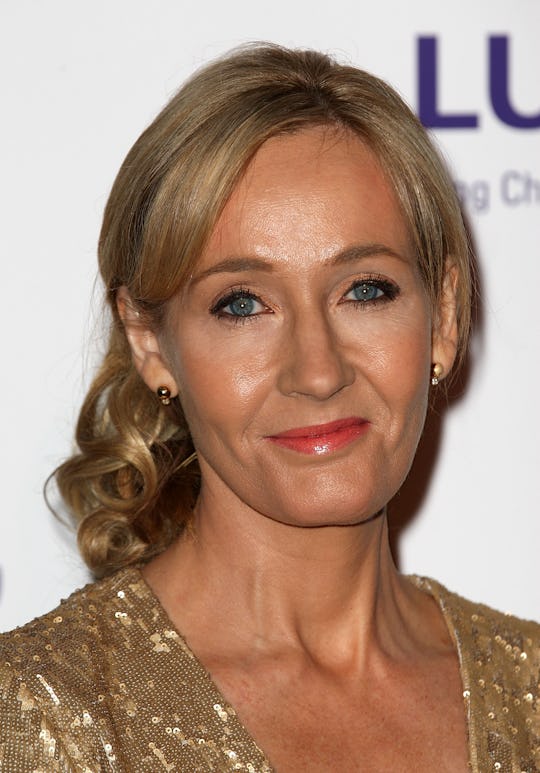 Danny E. Martindale/Getty Images
JK Rowling's New Novel Is A Children's Book & It's Long Overdue
The good news for Harry Potter fans just keeps coming. In a radio interview this week, JK Rowling casually announced that she's currently working on a ton of ideas, one of which includes — wait for it — a new children's book. While she didn't offer up any plot details, or possible connections to her much-beloved first series, this is still exciting news for young readers. JK Rowling's new novel is the first children's book that Rowling has taken on since she gave us Harry Potter and The Deathly Hallows back in 2007.
But the novelist certainly hasn't been idle since penning the final book in the Harry Potter series. Rowling just released her third adult mystery book, Career of Evil, written under her pseudonym Robert Galbraith. And it was only days ago that the author blew our minds by announcing details around her latest Potter-themed project. Fans have been begging for a sequel to the blockbuster HP series, and Rowling finally delivered in the form of a play called Harry Potter and the Cursed Child. The eighth story in the Potter cannon, Cursed Child picks up the Potter story nearly twenty years later as Harry and Ginny Potter's oldest son Albus heads off to Hogwarts.
But the big question, of course, is when Rowling's new novel will finally arrive. In her interview with Radio 2's Simon Mayo, Rowling declined to estimate a release date, saying that the children's book is one of many new projects on her plate at the moment:
I'm not going to give you an absolute date because things are busy and I've been writing a screenplay as well for Fantastic Beasts and Where to Find Them which has been a lot of fun so I'm very busy but I'd definitely write more novels as JK Rowling – novels in the plural, I have so many ideas."
So we might have a while to wait. In the interim, young readers and grown-up fans can can buy tickets for Harry Potter and the Cursed Child, whichopens in London's Palace Theater next summer, on the Pottermore website. The Potter spin-off film, Fantastic Beasts And Where To Find Them will be released in November 2016.
Image: Danny E. Martindale/Getty Images