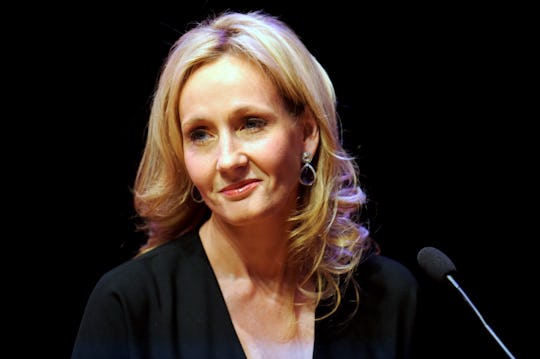 Ben A. Pruchnie/Getty Images Entertainment/Getty Images
JK Rowling's Tribute To Orlando Victim Luis Vielma Is Heartbreaking
The world is still reeling after a gunman opened fire early Sunday at Pulse, an Orlando-area LGBTQ nightclub, killing 49 people and injuring 53 more. As the identities of the victims are being released, people are coming forward on social media to express their grief, including author J.K. Rowling. J.K. Rowling's tribute to an Orlando shooting victim was heartbreaking, and mirrored what countless others are feeling today, as we learn more about the people who have died. According to TIME, Rowling took to Twitter to post a picture of 22-year-old Luis Vielma, who worked at the Wizarding World of Harry Potter attraction at the Universal Orlando theme park. Upon learning of Vielma's death, and his Harry Potter connection, Rowling told her followers that she "can't stop crying."
Many people who knew Vielma responded to Rowling with their own comments, describing him as a kind, funny, sweet young man. Others shared how much he enjoyed working at the Harry Potter-themed attraction, and how well-liked he was by his coworkers, and even guests who could remember meeting him during their visits. Some friends even commented on how honored Vielma would have been to know that Rowling had mentioned him like that, with one friend writing, "@jkrowling this would blow his mind. thank you so much."
According to the Orlando Sentinel, Vielma was a ride operator at Universal Orlando and a student at Seminole State College, who had aspirations of becoming an EMT. Friends say he was known for his kind and caring nature. One of Vielma's coworkers, Olga Glomba told the Sentinel that he was "a true friend. A funny, sweet, nerdy guy without a mean side. He just wanted to make people smile."
Following news of Vielma's death, Universal Orlando decided to close the Hogwarts Castle in a sign of mourning, and also released a statement expressing their sadness for Vielma's family and friends, according to CNN.
In addition to her original post, which she pinned to the top of her feed, Rowling retweeted a number of poignant comments she received about Vielma, showing just how loved he was, and how terribly missed he already is:
Sadly, Vielma wasn't the only Harry Potter employee involved in the shooting Sunday: one of Vielma's coworkers tweeted Rowling to let her know that a second team member, named Tony, was still in the ICU. Rowling retweeted the message to her followers, and offered her prayers:
The Orlando shooting has been confirmed to be the deadliest mass shooting in U.S. history, according to NBC. In a news conference, President Barack Obama spoke about the importance of remembering and honoring the victims as we continue to learn more about who they were:
In the coming hours and days, we'll learn about the victims of this tragedy. Their names. Their faces. Who they were. The joy that they brought to families and to friends, and the difference that they made in this world. Say a prayer for them and say a prayer for their families — that God give them the strength to bear the unbearable. And that He give us all the strength to be there for them, and the strength and courage to change. We need to demonstrate that we are defined more — as a country — by the way they lived their lives than by the hate of the man who took them from us.
There's no doubt that we are all mourning the loss of innocent victims like Vielma, as we once again live in the wake of another mass shooting and more senseless gun violence.