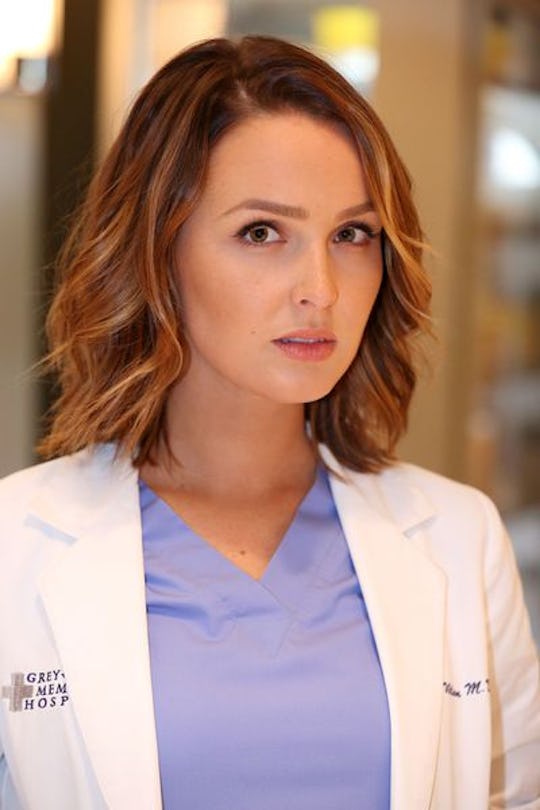 Adam Taylor/ABC
Jo Reunites With Her Husband On 'Grey's' & Fans Are Freaking Out
As promised, the Grey's Anatomy winter finale ended on a huge cliffhanger that has left fans in a quite the tailspin. After a few hints and speculation, Jo was reunited with her husband on Grey's Anatomy and it was quite possibly the worst timing ever. This week's episode was very high stakes, as was to be expected since it was the midseason finale, but this episode was a bit different than episodes done in the past.
Rather than an explosion or terrible storm, the problem in this episode was all about the tech. A hacker, or group of hackers, got into the hospital's network, shutting down all the heart monitors, computers, and the doctors' access to the hospital medical records. This led to a lot of issues for everyone, but for Alex, Jo, and Amelia, specifically, it made it difficult for them to know how to treat their patient, who was suffering from what the boy called "sick-blood disease." In reality, that meant he had a stroke before and there was a chance he was bleeding in his brain.
However, because the doctors couldn't access the medical records, they weren't sure if they should give him medication to stop the bleeding or not. Jo went on a mad search to find the nurse who worked with the patient last, and finally toward the end of episode, she learned that Alex should definitely not give the boy the medication — just as viewers saw he was about to administer it. Uh oh!
As Jo was calling and texting Alex not to give the boy the medication, she got out of the elevator, planning to make a mad dash before it was too late. That's when she was stopped in her tracks because she ran right into Paul Stadler, her husband.
"Hey Brooke," he said. "Or, wait, it's Jo now, right?" Yikes! It wasn't surprising that Jo was completely stopped in her tracks. Jo hadn't seen Paul in years and for good reason. Paul was incredibly abusive to Jo, and took advantage of the fact that she had grown up in foster care and needed help when she was young. Once Jo was able to free herself from him, she disappeared, changed her name, and started her new life as Jo Wilson, never looking back.
However, a few episodes back, she revealed to Alex that she was ready to get her life back and finally file for divorce from Paul, despite knowing the risk. A patient, who was also a judge, warned Jo that by filing for divorce, Paul would know where she was and track her down. Which seems to be exactly what he did.
It's unclear what exactly will happen next, but it's highly unlikely Paul just dropped in to say hello. More than likely, he's there to hurt Jo in some way, and with the hospital in complete chaos he may have picked the perfect time to try and steal her away. Hopefully, Jo will be able to get away from him and to safety, but with everything going on, that could prove to be difficult. For all she knows, Paul could have a weapon on him or he could just threaten her in some other way. Regardless, if Jo does leaves the hospital with him, her life will be in serious danger.
All I can hope is that someone is paying attention and can get Jo far away from this man. Or better yet, hopefully Jo will be able to save herself. Unfortunately, for now, fans will have to wait and stress about this until Grey's returns on Jan. 18.
Check out Romper's new video series, Romper's Doula Diaries:
Watch full episodes of Romper's Doula Diaries on Facebook Watch.