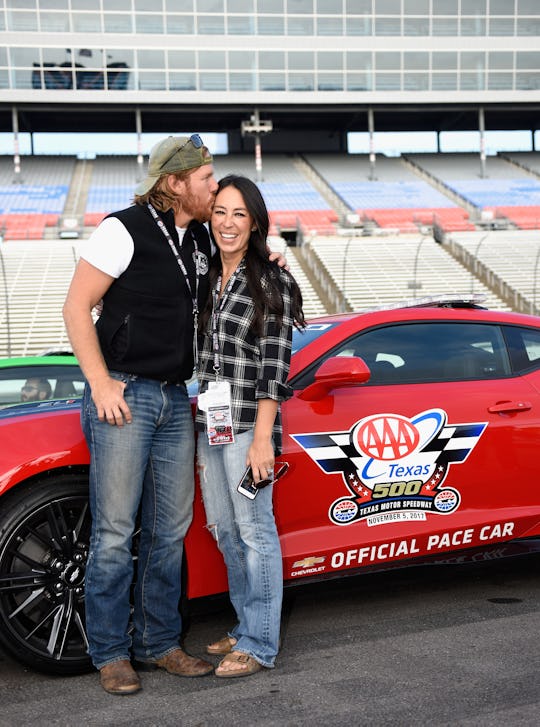 Jared C. Tilton/Getty Images Sport/Getty Images
Joanna Gaines' Daughter Drew On The Bathroom Vanity, But Jo's OK With It
It's the time of year when people think a little more spiritually, and try to count their blessings. So even a home-improvement goddess like Joanna Gaines is OK with a little domestic mess if it's for a higher purpose. When Gaines' daughter drew on her countertop with a marker, it actually proved to be a super-touching moment.
As People reported, Gaines, who co-owns the Magnolia empire with husband Chip, had a surprising discovery inside her own home over the weekend, when she went into the restroom used by daughter Emmie Kay, 8. There, as per People, the TV star (formerly of the show Fixer Upper) and designer extraordinaire spied a sight that would make any mom's heart drop, let alone a mom who also believes in the beauty of a well-designed home.
In the bathroom, Emmie had used a purple — yes, purple — marker to scribble all over the gorgeous, Carrara-marble-looking countertop. But the content of the doodle made Gaines pause before she got too worked up about graffiti. Inside what looks like maybe a present or cake wrapped with a bow (People thought it looked like a radio), Emmie had written: "Hi God what are you doing?"
Now, this is so sweet (if you don't think like a maniacally-tidy mom for a minute — this is one thing I have to work on constantly). Emmie may know that it's a special season, with the holidays approaching, and it appears she's thinking about something besides herself. This is really an example of great parenting on Joanna and Chip's part. Of course, as Jo shared on her Instagram, she had to remind herself of all that when assessing the damage:
"I walked into Emmie's bathroom this morning and my heart stopped for a second when I thought she had sharpied all over her vanity," Joanna captioned the sweet shot. She added:
And then I took a moment and really read what she wrote and thought, 'Well that isn't the worst thing to be permanent.' Then I touched it and realized it was erasable😅. I stared at her question and loved the thought of it and... that's how she talks to God. May her faith always stay childlike and may I remember what she seems to already know.
Fans ate up the touching episode. "Kids can teach us incredible lessons. Thank you for sharing," responded one user, while another chimed in with, "So beautiful!" A third commented, "I LOVE THIS........ Such a pure heart❤️ I miss seeing your family on TV but I settle on reruns on @hulu!"
Some followers got personally inspired by the incident: "My first impression was who put the cactus by the hand towels and then I read what you had to say and I thought... I'm a cynical person. Time for change," responded one user.
Gaines, now a mom of five since baby Crew was born in June, as Us Weekly reported, manages a clan that includes son Drake, daughter Ella Rose, son Duke and next-to-youngest Emmie Kay. Joanna and Emmie seem to have spent quite a bit of quality time together lately, as Emmie has had to adjust to having a younger sibling. Whether it's because Emmie needed some extra mommy-daughter time during the transition or not, it's clear that Jo's enjoyed the special activities with her youngest daughter.
For example, Gaines shared on Instagram that she and Emmie took a treasure hunt in the garden earlier this month and found some vintage books, and she also talked about dealing with mom guilt, encouraging moms to take it a bit easier on themselves.
As the rest of us parents juggle work, home life, and trying to make the holidays super-special for our kids, I totally appreciate this from a mom with, arguably, more on her plate than most folks. (In fact, the Los Angeles Times recently reported the family is developing its own TV network in conjunction with the Discovery channel!)
Gaines' advice to not to be too hard on yourself as you run around searching for the perfect gift for your spouse, your kids, your boss, and your kids' teachers and to take a beat before letting something upset you is a much-needed reminder this holiday season: Just breathe.