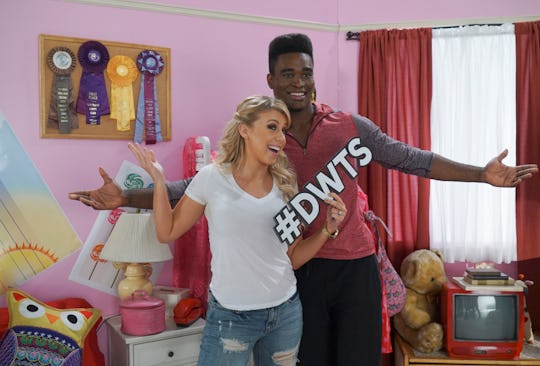 Byron Cohen/ABC
Jodie Sweetin Didn't Dance To "Motown Philly" On 'Dancing With The Stars' & Fans Noticed
There was a major tragedy that occurred on the Dancing with the Stars premiere. Despite a golden opportunity to bring back one of the best scenes of all of television history, Dancing with the Stars had Wanya Morris dance to "Motown Philly," and not the one and only Stephanie Tanner. Sure, Jodie Sweetin did a great job with her Dancing with the Stars performance, but what a missed opportunity to not have her recreate one of Stephanie's most iconic scenes in all of Full House. And if you think I'm being dramatic about this, then let me introduce you to the interwebs, where all of the Jodie Sweetin "Motown Philly" hopefuls live (and simultaneously had their dreams crushed in one night).
On Monday's premiere, Sweetin performed a tango with her partner Keo Motsepe. Despite a strong fan reaction, the dance only garnered 20 out of 30 points from the judges. You know what would have made the dance worthy of 30 points? A little Boyz II Men action, that's what.
In the early days of Full House, Stephanie Tanner did an iconic group number to "Motown Philly." This dance is one of the reasons why I'm confident that Sweetin could take the Mirror Ball Trophy home.
So, imagine my shock when Sweetin danced to "Confident" by Demi Lovato and Wanya Morris dance to "Motown Philly." Yes, I know that "Motown Philly" is technically Morris' song, but is it really? Because, I'm pretty sure the pops and locks that Stephanie Tanner does in the video above give her ownership to the song. I'm not the only one who noticed this injustice.
So, yes, this was a bit of a tragically missed opportunity. My only hope is that Jodie Sweetin will dance to "The Sign" at some point this season, just to right this wrong and make Stephanie Tanner proud.