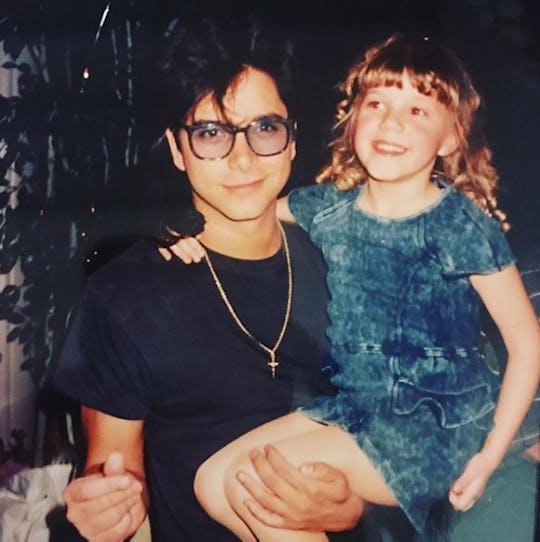 Courtesy of Instagram.com/JodieSweetin
Jodie Sweetin Feels More Confident Now Than Ever Before As A Child Actor
Ever wonder what your favorite childhood stars are doing now? Same. In Romper's new series Claim to Fame, we're bringing you exclusive interviews with the faces of the past, contextualizing them in the present, and finding out what they've learned from their claim to fame.
There aren't a lot of actors who can say they are playing the same character they were 10, 20, 30 years ago. Then came the reboot era, when Full House — now titled Fuller House on Netflix — allowed former child actress Jodie Sweetin to step back into Stephanie Tanner's shoes for the first time in 20 years. Many things have changed over the past two decades, but for Sweetin the biggest change has been within her self-confidence. One thing that hasn't changed? Sweetin's bond with her on-screen family, especially "soul sisters" Candace Cameron Bure, Andrea Barber, and both Mary-Kate and Ashley Olsen.
Despite the fact that Sweetin was born and raised an only child, she revealed that growing up around her on-screen siblings did make her feel like she had a much bigger family. "You know, I don't know that I ever related to Stephanie on any of the middle child stuff because I was an only child," Sweetin told Romper's Claim to Fame. "I didn't have any of those experiences of like feeling left out or anything like that. But it was fun, because you know coming to set every day and having Candace, and then Ashley and Mary-Kate, and then Andrea, and all those people... I felt like I had all of these soul sisters and a bigger family. So I did I kind of get the feel of what it that's like to have a big family other than just my parents and I in real life."
It wasn't just soul sisters that Sweetin acquired. She is also fortunate enough to have role models and mentors in the form of her on-screen dad, Bob Saget, as well as on-screen uncles Dave Coulier and John Stamos, all of whom have returned to revive their characters on Netflix's Fuller House for three seasons straight.
I realized most of the kids at my school and all of that weren't doing what I was doing, but I never really had anything to compare it to. So I was like, well this is just how my life is. And it was fun.
As for the previously mentioned change in Sweetin's self confidence, she explained it like this: "I don't know that it has anything to do necessarily with being a child actor or an adult actor, but I think as I've gotten older I've gotten a lot more confident in myself and I think that kinda happens once you hit your thirties." Sweetin added, "You're like, 'Oh, okay, this is — I finally figured out who I am.'"
For Sweetin, finding herself meant she finally stopped caring about what everyone else might be thinking when it came to her work. "I'm a lot more comfortable being silly and ridiculous and doing some of the over-the-top things we do on Fuller House because I don't care what anyone thinks if I look ridiculous or this or that," Sweetin shared. "Whereas when you're 13 and doing it on the original Full House, you're like, 'Oh my god! My friends are gonna think I'm so lame!' And now it doesn't matter. It's fun and it's silly and you just kind of go for it."
It's great to hear that Sweetin has really grown into her self, especially because there are multiple different generations of fans who have come to know and love her as Stephanie Tanner. Whether they watched the Tanner family in the '90s when the original Full House aired, or they grew up watching reruns on various different networks, there are millions of fans who feel a strong connection to the fictional Tanner family.
"I mean, it's because the show, like you said, is so iconic and such a touchstone of so many people's childhood," Sweetin gushed to Romper while discussing how fans have connected with the Tanners over the years. "Full House, the original show, was kind of one of the last ones — like the TGIF family viewing sort of thing before a lot of sitcoms took over."
Sweetin obviously understands the connection to Full House and the Tanner family, and she embraces it wholeheartedly, too. "So many people remember sitting home on a Friday night and watching the Tanners with their family. So it's neat because fans have this really warm, wonderful memory of this show, and it's a place they go back to and they're like, 'Oh, I'm homesick and I'm watching this.'"
Now that Stephanie, the Tanner sister with the loudest personality, is all grown up, Sweetin only has one wish for her: to become a mom. The good news? She's getting that wish granted, because Kimmy (Andrea Barber) is currently carrying Stephanie's baby as a surrogate. "Stephanie will be becoming a mom sometime in Season 4," Sweetin shared. "So I think that's gonna change a lot for her, and I think that's, that's probably the biggest thing that she could possibly go through. I'm excited to see kind of what change that's gonna bring about for Stephanie."