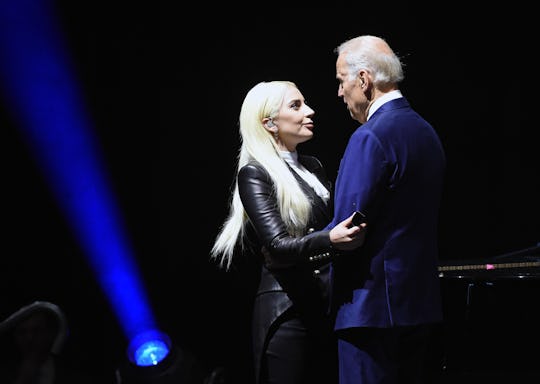 Ethan Miller/Getty Images Entertainment/Getty Images
Joe Biden & Lady Gaga Have Teamed Up Again To Help Sexual Assault Survivors
While he may no longer be in public office, Vice President Joe Biden is still doing a lot of good for the world. And he's not the only one. As it was recently announced, Biden and Lady Gaga have teamed up to help sexual assault survivors and their latest project is so inspiring. Previously, Biden and Gaga joined forces to share a powerful message about ending sexual assault an supporting survivors, and now, they're making that goal into something tangible: a trauma center for women.
Attending Glamour's Women Of The Year Summit in New York City Monday evening, Biden took the stage to recognize the power of women coming together and standing up to sexual assault. Biden also took the time to announce something he and Gaga were working on, according to Entertainment Weekly:
Women who are abused end up having long-term physical and physiological problems. I'm working with Lady Gaga now… we [want to] set up trauma centers where women can go to get the long-term help they need to deal with these crises… We finally are recognizing the long-term impacts on the health of women and men who've been abused. It's the next great frontier I want to be part of.
And launching these centers is clearly something that is long overdo. According to the Rape, Abuse, and Incest National Network (RAINN), "1 out of every 6 American women has been the victim of an attempted or completed rape in her lifetime (14.8% completed, 2.8% attempted)." So Biden and Gaga's future project is sorely needed. And while their "discussions on how to move forward are in the early stages," according to a representative for Biden who spoke to Entertainment Weekly, it's clear that these two are dedicated to the cause.
In 2016, Gaga performed her song, "Til It Happens To You" at the Oscar's, and ended the song with 50 survivors surrounding her on stage in a powerful tribute to survivors everywhere. But that wasn't the first time Gaga has taken a stance for sexual assault survivors, and it clearly won't be the last.
Biden is also dedicated to the cause. In 2014, while vice president, he launched the It's On Us campaign to combat sexual assault on college campuses across the United States. According to the campaign's website:
It's On Us asks everyone – students, community leaders, parents, organizations, and companies – to step up and realize that the conversation changes with us. It's a rallying cry to be a part of the solution.
Over the past few weeks, accusations of sexual assault and mistreatment have dominated news headlines, and rightly so. Women are taking a stand against the people who have allegedly mistreated them, and that's something Biden and Gaga want to help with, especially the aftermath of those fallouts. "It's hard to come forward … don't let this slow up," Biden said at the Glamour Summit according to Rolling Stone.
"This is time to fundamentally change the culture of how women are treated in American society," he said at the summit, adding:
The culture is changing because so many brave women — knowing they were going to be vilified — are coming forward. Look at all these men have rightfully lost, now. Million dollar contracts! That wouldn't have happened a year ago, five years ago, 10 years ago, so keep pushing.
And keep pushing he and Gaga will. Because no one deserves to go through that kind of trauma, and not have a support system there on the other side. Hopefully, Biden and Gaga's future trauma centers will be able to provide that for the far too many women who have gone through abuse.