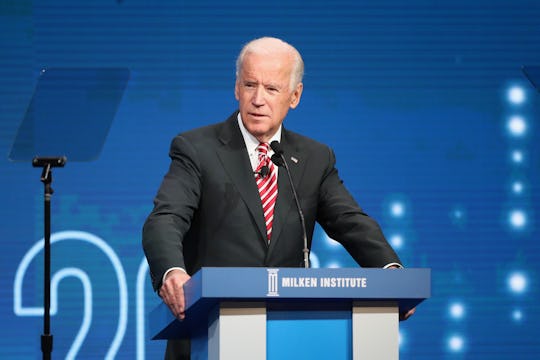 Frederick M. Brown/Getty Images Entertainment/Getty Images
Joe Biden Just Officiated Another Same-Sex Wedding
Joe Biden has been keeping pretty busy since his tenure as vice president of the United States came to an end in January. Instead of laying low over the past few months, he's remained in the public eye to continue making positive efforts towards change in our country. He's taken time to speak about issues he cares about deeply, such as campus sexual assault and calling for unity amongst United States citizens. In between his public work, our former vice president found a quiet moment to help out his friends on a very special day. Biden officiated a same-sex wedding ceremony on Saturday, and we can't help but love him even more now.
Biden officiated the service for Henry Munoz and Kyle Ferrari in what appears to be an intimate ceremony. Munoz is the Finance Chair of the Democratic National Committee, according to People, which is most likely how the happy couple knows Biden. While Biden hasn't posted about the lovely day on any of his own social media accounts, one photo of the ceremony did make it to Instagram thanks to Melanie Griffith. The actress was in attendance at the wedding and posted a photo to her Instagram account accompanied by a sweet caption. "My dearest friends Henry Munoz and Kyle Ferrari were married today by VP Joe Biden," Griffith wrote. "Wishing them everlasting love and a joyous life journey!!!"
Biden has been open about his support for same-sex marriage in America, so it's great to see him walk the walk in his personal life, as well. This isn't even the first same-sex wedding ceremony Biden has presided over. He officiated the marriage of two male White House staffers back in August. Biden even hosted the nuptials of Brian Mosteller and Joe Mashie at the Naval Observatory, which is the former vice president's official residence. He took to Twitter after the ceremony to share his excitement with his followers. "Proud to marry Brian and Joe at my house," he wrote. "Couldn't be happier, two longtime White House staffers, two great guys"
The United States has definitely seen a lot of progress with same-sex equality in recent years, however, the current political climate can make the future of equal rights feel uncertain at times. It's comforting to know that even though Biden is no longer in the White House, he's still working hard to make a difference in both his public and private lives.
Congratulations to Munoz and Ferrari on their marriage. With an officiate like Biden, you can be sure it was a wedding to remember.