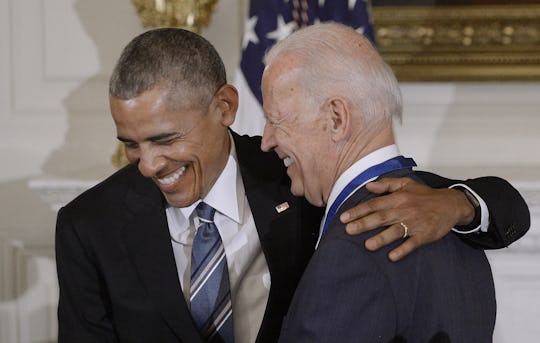 Pool/Getty Images News/Getty Images
Joe Biden Reveals His Favorite Memes About Him & Barack Obama, So Cue The Waterworks
As just about everyone in America knows, there is only one true love story that took place in Washington, D.C., and it has nothing to do with Olivia Pope. No, the purest love story to come out of the nation's capital is that between the president and vice president who formally worked in the Oval Office. And now that Joe Biden has revealed his favorite memes about him and President Barack Obama, you can relive all the glory of the pair's time in office, before America took a dramatic turn.
Yes, before a reality television star took over the White House, it was inhabited by two men and the most epic of bromances. And now, one of those men has confirmed that these beloved BFF rumors are all true. Grab some tissues, because you'll be crying very soon.
During an interview with NBC News, Biden was asked about all the bromance rumors and plotlines — that citizens made into memes and GIFs — during his time in office between him and Obama. And not only did he confirm them — telling Savannah Sellers, "in essence…" they're "all true" — but he also revealed that he really enjoyed the memes of him and Obama that became extremely popular towards the end of their time working together.
Speaking to Sellers, Biden also revealed that he did, in fact, have a favorite meme:
A couple of ones I liked were ones where I was trying on Ray Bans and he's lying on the couch and I turn around and I said, "Which ones do you like?" And he looks at me and says, "Joe, Joe, come on, focus here."
Yeah, Biden knows he's funny. And he also knows that the memes of him and Obama were popular for a reason. Their relationship was (and still is, according to Biden's daughter) clearly extremely strong, and the two have been through a lot together. And while the emotional heaviness of what Biden has been through with the death of his son cannot be overstated, it's clear that he loves to laugh. And the memes of him and Obama provided a certain kind of relief from reality after the 2016 presidential election.
Biden also explained that he loved the meme about him leaving a fake birth certificate in the Oval Office when they left, a subtle nod to President Donald Trump's persistent (and inaccurate) claims that Obama was not born in the United States.
"One of the ones I like the best," Biden told the outlet, is when he's telling Obama, "I put in the drawer fake birth certificates."
In fact, most of the Biden-Obama memes center on the two pranking Trump when he moved into the White House. While the shock of the election was still new, many took to creating memes of the POTUS and VPOTUS joking with each other as a form of comfort in a time of chaos.
Because, as the saying goes, laughter really is the best medicine. As HelpGuide.org notes, "Laughter strengthens your immune system, boosts mood, diminishes pain, and protects you from the damaging effects of stress."
So, it makes sense for people to have made so many hilarious memes following the election. And while Biden's favorites might have already been discussed, I would be remiss if I did not to feature some more of the best Obama-Biden memes. Because everyone deserves to laugh a little, so please enjoy:
While the memes of Biden and Obama's friendship provide some much-needed comedic relief, the actual dynamic between the two is truly the stuff of legends. In an interview with InStyle, Biden revealed that Obama had been there for him all through his son's illness — even when Biden had considered selling his house to pay for Beau's treatment. He told the publication:
When Beau had what we thought was a stroke two years before it got diagnosed as cancer, Barack came running down the hall saying, "Joe, is Beau OK? Joe, is he all right?" Barack was emotional. He said, "Joe, don't do that, don't do that! You love that house. Don't do that. I'll give you the money."
As funny and comforting as the memes are, it's even nicer to know that the two truly are the best friends everyone had hoped they were while in the White House.