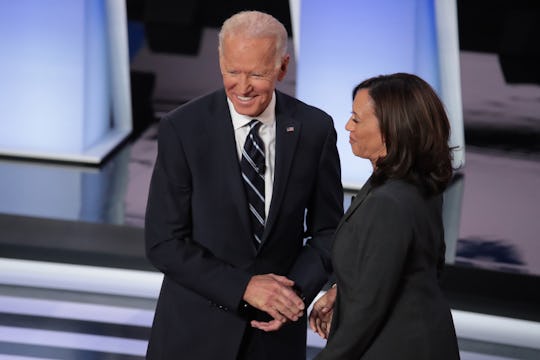 Scott Olson/Getty Images News/Getty Images
Joe Biden Telling Kamala Harris To "Go Easy" On Him At The Dem Debate Was So Awkward
Within seconds of taking the stage on Wednesday — before the second round of Democratic debates had even started — former Vice President Joe Biden made a big impression. But unfortunately for him, it wasn't a positive one. That's because Joe Biden told Kamala Harris to "go easy" on him, an incredibly cringeworthy comment, to say the least.
To set the scene for you, the first two candidates to take the stage Wednesday evening were Biden and Harris. And when Harris took her place next to the former VP, he shook her hand and jokingly said, "Go easy on me, kid," followed by a chuckle, according to The Guardian. Oh, Uncle Joe. Why?
As for Harris' reaction to this awkward remark? She simply smiled and asked Biden how he was doing, possibly trying to diffuse the moment with a generic question. And although Harris handled the moment well, viewers at home were cringing over the whole thing. Emphasis on cringe.
If you didn't tune into the first round of the Democratic debates, the "go easy on me" part of Biden's comment probably needs a little explanation. In June, Harris called out the former vice president on the issue of race, specifically referring to an incident at a campaign event earlier that same month. Biden had spoken about his past bipartisan efforts with segregationist senators, saying that this type of "civility" in Congress no longer exists.
"I don't believe you are a racist," Harris told Biden, according to CBS News. "It was hurtful to hear you talk about the reputations of two United States senators who built their reputations and careers on the segregation of race in this country." Meanwhile, Biden said Harris' attack was "a mischaracterization" of his "position across the board," insisting, according to CNN, that he did "not praise racists."
Harris also accused Biden of opposing busing, stating, according to The New York Times: "There was a little girl in California who was part of the second class to integrate her public schools, and she was bused to school every day, and that little girl was me."
"I did not oppose busing in America," Biden clarified. "What I opposed is busing ordered by the Department of Education."
Now that you're all caught up to speed on the context of Biden's remark, here's what people had to say about his joke at the second round of the debates.
"She is not a kid," one commenter wrote.
"Is he even trying at this point?" another commenter asked. "A man that is already shaky with women due his past issues calls the potential future president of the United States kid. Wtf man."
And it didn't take long for Harris' team to respond via Twitter, either. "Kid?" Harris' National Press Secretary, Ian Sams, tweeted.
Although Biden likely didn't intend to be malicious with his, "Go easy on me, kid," comment, one might argue that he inadvertently put a lighthearted spin on the point Harris made about race. Not only that, but referring to a 50-year-old woman as a "kid" is just demeaning.
Fortunately for Biden, his opening remarks left a better impression. "Mr. President, this is America," he stated, according to The Hollywood Reporter. "And we are strong and great because of this diversity, Mr. President. Not in spite of it, Mr. President."
He continued, "So Mr. President, let's get something straight. We love it, we are not leaving it, and we are here to stay, and we are certainly not gonna leave it to you."
It's safe to say that's the Joe Biden many people remember, and, hopefully, he'll pass on the jokes going forward.