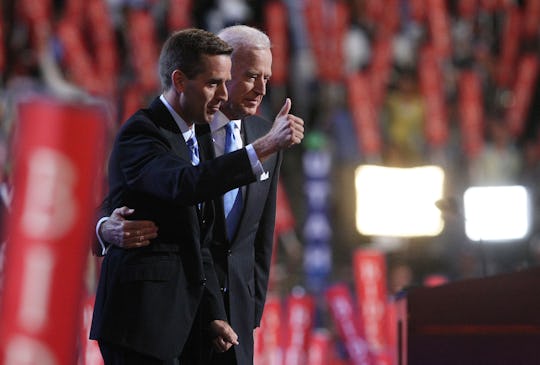 Justin Sullivan/Getty Images News/Getty Images
Joe Biden's Book Will Address His Son's Death
While Barack Obama and Joe Biden may be out of office, their unique ability to move America's collective heart lives on. And just as both President and Michelle Obama recently signed book deals after they left the White House, so have Vice President and Dr. Jill Biden. According to The Associated Press, the couple has officially inked a deal with Flatiron Books, a Macmillan imprint, for two books: one by Jill Biden, and another by the former VP. As if news of more Biden wasn't enough, it's also been reported that Joe Biden's book will address his son Beau's death, among other things, and yes, you'll probably need a box of tissues.
As news of the new book deals just broke this week, it's still unclear when they'll be published, although as both of the Bidens are hard workers, it's likely that Americans won't have to wait too long. But until the book comes out, there are a few details to pore over, like the fact that Biden has already confirmed he'll talk about his son Beau's death in 2015, as well as his regret over not running in the 2016 presidential election. And since the death of his son, and Hillary Clinton's loss are both still fresh wounds, it's likely that Biden's new book will be an emotional roller coaster, albeit one that I'm most definitely here for.
In a statement regarding the upcoming publications, Flatiron said that Biden's book will be non-fiction, and noted that it will be "the story of not just a politician, but of a father, grandfather, friend and husband." As neither book has a title, not much else is known besides what else Flatiron disclosed. The publishing house added,
We're so deeply honored to be the publisher of these books by Vice President and Dr. Biden. The Vice President's Book promises to give us all a deeper understanding of recent political history, but it will clearly also be a book about the values that have given the Vice President strength in both good times and bad.
And while Biden has undergone a lot of pain recently, his entire life story is also incredible, and beautifully tragic. In 1972, Biden's first wife, Neilia Biden, and their 1-year-old daughter were killed in a car accident. His sons, Beau and Hunter, survived, although Beau died of brain cancer on May 30, 2015.
Since then, the Bidens have both been vocal advocates of cancer research, and Biden has started a campaign to end sexual assault on college campuses, two causes he cares greatly about. Hopefully, his new book will touch on all the tragedies he has had to overcome throughout his life, and the incredible man and leader he has become.