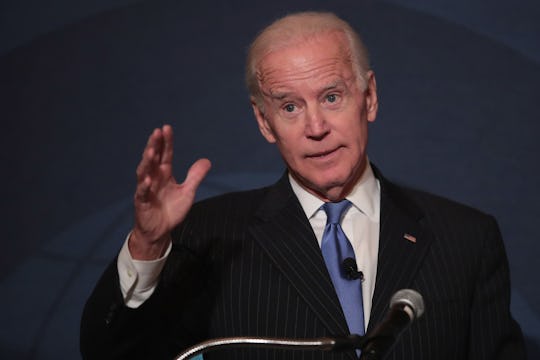 Scott Olson/Getty Images News/Getty Images
Joe Biden's Message To Families Of Sandy Hook Victims Is Heartbreaking
There's a grim milestone that mars the holiday season each year, and Dec. 14 marks the fifth time the country will face the devastation that was the Sandy Hook Elementary School massacre on its anniversary. The 2012 horror left 20 first-graders and six staff members dead after a gunman shot at them with an AR-15 rifle — and it's a reality that doesn't get any easier to accept as time goes by. Which is why former Vice President Joe Biden's message to the Sandy Hook families when he addressed them Tuesday was beyond heartbreaking.
Biden was serving as vice president under President Barack Obama at the time of the shocking Newtown, Connecticut, tragedy, and he said at the Sandy Hook Promise that the two agreed Dec. 14, 2012 was "the saddest day either of us had witnessed in the White House," according to People. But perhaps that's true for Biden for personal reasons as well, as he, just like the Sandy Hook Promise parents honoring him Tuesday, knows the pain of losing children. (Biden buried a baby daughter in 1972 after she died in a car accident, and his adult son, Beau Biden, in 2015, after he died of brain cancer, according to The Washington Post.)
Which was part of the reason he was able to address Sandy Hook Promise, a nonprofit led by Sandy Hook families dedicated to advocating for gun safety legislation and preventing mass shootings, with such compassion.
As he said in his remarks when the group honored him, People reported, he knows what they're feeling:
I know no matter how long it's been… they relive the moment like it's yesterday when you start to talk about it. It never ultimately goes away. You learn to live with it but when there is discussion of it, it brings it all back in sharp relief and focus and I know this time of the year is especially hard as well.
And as Biden has acknowledged, making the situation even more unbearable for many of these families (and those of victims of other gun violence in the United States) is the fact that Congress has not passed any gun safety legislation since Sandy Hook. In fact, Biden personally called Mark Barden, who whose son Daniel was 7 when he died at Sandy Hook, to say he was sorry when Republicans and the NRA blocked an attempt to ban assault weapons in 2013, NBC News reported.
The infuriating lack of action has led Sandy Hook Promise to create a chilling PSA in which a news "reporter" reports on and interviews witnesses of a school mass shooting that will occur the next day. The message, of course, is that another Sandy Hook is inevitable if something does not change.
Biden previously said that this Republican-led refusal to pass gun safety laws to protect kids in schools "borders on the irrational," according to The Hill. Still, he said Tuesday at the Sandy Hook Promise event, he is incredibly impressed with the families of the Sandy Hook victims, according to People:
I think I've met virtually every one of the family members who lost a child or a teacher that day and they're defined by their character, their consequence, and their courage.
And most importantly, he reiterated his commitment to working with these families to make reasonable gun safety measures a reality:
Write checks, speak out, show we're united, show we're committed, show we'll never give up.
On Thursday, Newtown — and the nation — will once again have to grapple with what happened to those children and adults at an elementary school five years ago. It's an unconscionable travesty that it happened in the first place, but, as Biden said, it's up to activists and politicians to make sure it never happens again.