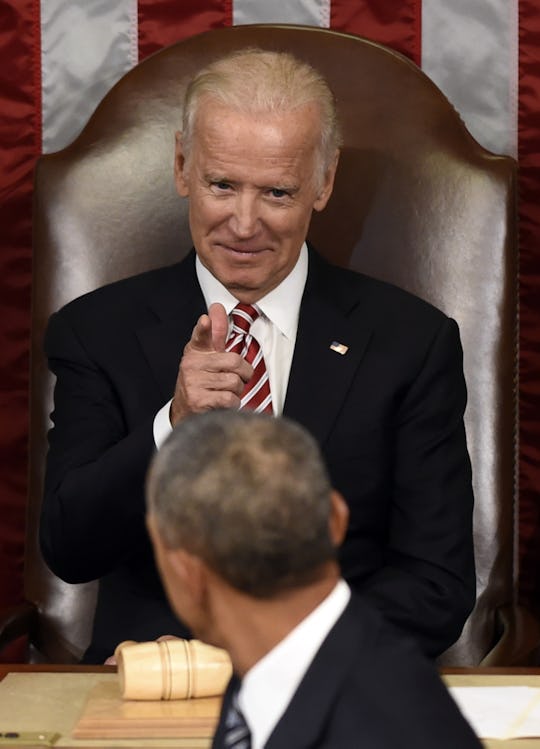 SAUL LOEB/AFP/Getty Images
Joe Biden's Message To Obama For His Birthday Is Too Adorable
It's no secret the feelings run deep between President Barack Obama and Vice President Joe Biden. Politics and party aside, these two really love each other. And at a time when politics is getting so viscous the affection between these two is both refreshing and touching. So it's no surprise the VP wanted to do something super personal for POTUS on his 55th birthday. Joe Biden's message to Obama for his birthday is too adorable.
What do you buy the actual leader of the free world? There's only so many pairs of cuff links and ties a guy needs. What can you say to Obama that he hasn't already heard a million times? "You're awesome! Happy birthday!" That's been done. And if we know anything about Joe, it's that he's a guy who has a way of communicating that no one can match. Need I remind anyone of his now-famous "bunch of malarkey!" quote from last week's DNC speech? In the same speech, he seemed to get teary calling the Obamas "family" and calling Michelle "kid." No, Biden needed to do something that would stand out among the flood of well wishes no doubt streaming into the White House for Obama's birthday.
He delivered with this beauty.
BFF bracelet. Well played, uUncle Joe. Well played. It's actually the same bracelet shown in a "Turn Up To Vote Week" video Obama made this summer, which is so cute it makes my heart hurt a little.
Am I the only one that hopes these two do a reality show together after they leave office? You know, for like a good cause or something. Because I'm starting to get really sad these two aren't going to be around as much.
And I'm not alone, based on the comments on Joe's b-day tweet to his bestie, Barack.
Even Michelle gets a shout out in the comments.
Biden and Obama's relationship isn't just for a goof, or cameras, or publicity — it's the real deal. When Biden's beloved son Beau died, he asked Obama to give the eulogy. Their families are also genuinely very close. The Washington Post reported that Sasha, Obama's daughter, and Maisy, Biden's granddaughter, are in the same grade at their school, Sidwell Friends.
"It is a really meaningful family relationship," said Ron Klain, a former chief of staff to Biden, according to the Washington Post.
Valerie Jarrett, another White House staffer said the two men, "trust one another and can be very honest with each other," she said. "The love each other." And Biden's birthday message makes that crystal clear.