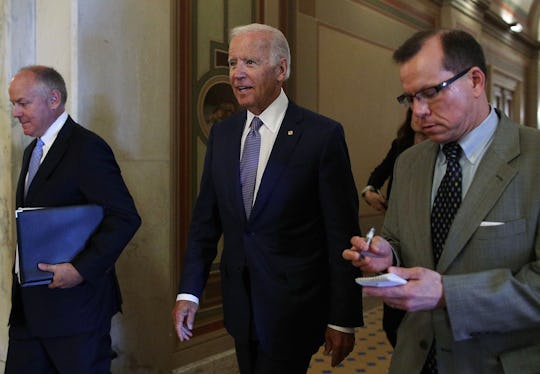 Alex Wong/Getty Images News/Getty Images
Joe Biden's Powerful Response To Trump's Transgender Military Ban
So, these past six months have kind of been a little hectic, to say the least. American politics have become more cutthroat than usual, as the Trump administration works to undo as much of President Obama's legacy as possible. Sadly, this party over country mindset has divided so much of the United States, and President Trump's numerous bans against various groups of people have made things even worse. Most recently, Trump's ban against transgender people in the military has thrown the news cycle into a frenzy. But Vice President Joe Biden's response to Trump's ban provides a poignant and factual truth that America needs to see. Because really, human rights are simple.
On Wednesday, Trump took to Twitter to announce a new policy change (yes, you read that correctly) regarding transgender Americans serving in the military. He wrote,
After consultation with my Generals and military experts, please be advised that the United States Government will not accept or allow transgender individuals to serve in any capacity in the U.S. Military. Our military must be focused on decisive and overwhelming victory and cannot be burdened with the tremendous medical costs and disruption that transgender in the military would entail. Thank you.
And as disturbing of an announcement as that is, Biden's response proves just how wrong Trump is, and how clear-cut transgender policy should be.
"Every patriotic American who is qualified to serve in our military should be able to serve," Biden tweeted a short time later. "Full stop."
And he's right. For someone who has claimed to be so pro-military, Trump's latest policy declaration isn't exactly patriotic. Despite Trump's wish to send a message of "American strength, security and resolve" via the United States military, he has now decided that trans people aren't worthy of fighting for their country.
Supporters of Trump's decision claim that the policy change came about in order to stop the Pentagon from funding transitional surgery for Americans in the military. According to The New York Times,
The announcement came amid a debate on Capitol Hill over the Obama-era practice of requiring the Pentagon to pay for medical treatment related to gender transition. The dispute has unfolded as Congress considers a nearly $700 billion spending bill to fund the Pentagon.
However, as critics of Trump's announcement have pointed out, there are fewer than 2,500 transgender Americans actively serving in the military, meaning that whatever costs the Trump administration is trying to cut down on are already very low.
On top of that, as Biden pointed out, this type of policy is totally and completely unnecessary. And, in case you were wondering, the "military spends $41.6 million annually on Viagra alone," so that $8.4 million expected to be spent on transgender Americans fighting in the military really isn't much, is it?
Biden — himself the father of the late Army major and Iraq War veteran Beau Biden — was correct in his short, simple statement: Trans rights are human rights. Full stop. Everything else is irrelevant.