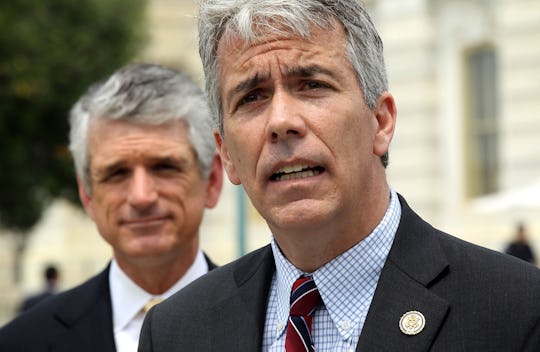 Alex Wong/Getty Images News/Getty Images
Joe Walsh Tweets About Jimmy Kimmel's Son
Late night talk show host Jimmy Kimmel has received an outpouring of support following his emotional Monday night monologue about his newborn son's recent heart surgery following the discovery of an undiagnosed birth defect. At many points during the 13-minute segment, Kimmel was moved to tears, and although his son is now thankfully at home and doing well, he reminded viewers that his son's experience was the perfect example of why access to affordable and comprehensive health insurance shouldn't be a controversial issue in the United States. That's an important message, yet on Tuesday, former Illinois Rep. Joe Walsh tweeted about Jimmy Kimmel's son, and in doing so, pushed back against the idea that he — or any other American — should care about the health of other people's children.
It's hard to even think that someone could watch Kimmel's heartbreakingly honest and sincere monologue and come to such a snarky conclusion, but not only did Walsh figure out a way, he also appeared to feel totally entitled to share that opinion with the rest of the world. According to People, Walsh took to social media Tuesday afternoon and wrote, "Sorry Jimmy Kimmel: your sad story doesn't obligate me or anybody else to pay for somebody else's health care." The good news at least? The twitterverse skewered him for it pretty much immediately.
Insensitive comment aside, the one-time Republican lawmaker isn't exactly known for his progressive views. Now a syndicated conservative talk radio host, Walsh has made his fair share of outrageous remarks in the past, grabbing headlines for stating, for example, that he would "grab his musket," if former Secretary of State Hillary Clinton won the election, according to CNN, and that former President Barack Obama won the 2008 election because he is a "black man who was articulate," according to The Washington Post. His past sound bites already likely provide enough explanation for why he felt compelled to respond as he did to Kimmel's comments on healthcare, but because Twitter is sometimes the very best thing ever, it quickly became clear that no one was about to let him off the hook.
One major criticism Walsh faced almost immediately? The irony over the fact that, while Walsh often positions himself as a champion of frugality and fiscal responsibility, The Chicago Sun-Times reported in 2011 that Walsh actually allegedly owed $117,437 in child support to his ex-wife, Laura, and their three children, according to Think Progress. In 2013, the story resurfaced, according to The Huffington Post, when The Chicago Sun-Times wrote that Walsh had filed a motion in February of that year to "drastically reduce his child support obligation" after becoming unemployed. In response, Walsh threatened to sue the newspaper, and wrote on his website that he had "never shirked [his] financial responsibility for [his] children," and that the fact that the original child support case was reportedly settled in 2012 proved that the news outlet "had a vendetta against [him] since [he] was first elected." (A rep for Walsh did not immediately respond to Romper's request for comment.)
That clearly wasn't a good enough explanation for those on Twitter though. Almost immediately after Walsh's original tweet, the clap backs came rolling in — and naturally, they were glorious.
Other tweets, meanwhile, just focused on what appears to be Walsh's overwhelming lack of compassion for others (seriously though, Jimmy Kimmel's son is literally a newborn baby):
While others just took the opportunity to point out that his views on healthcare are basically the worst:
It's possible, of course, that the one-term politician's tweet was an intentional attempt to rile others and gain attention for his views, but even still, using the example of a heartbroken new dad and his sick baby boy definitely seems like it should be off-limits. In what seems to be a testament to how much people really did appreciate Kimmel's message though, not only have Kimmel and his family been on the receiving end of a ton of widespread support and love over the past few days, even Obama made sure to chime in on the discussion, and thanked the late night host for highlighting the importance of affordable health care.
Regardless of what Walsh and his followers may believe, the fact that Kimmel's message resonated so deeply with so many people is a hopeful sign that, even if there are people out there who think that sick children don't deserve health care if their families can't afford it, they aren't the majority. And it's also clear that anyone who thinks they can get away with talking that way on social media is probably about to be in for a rather rude awakening.