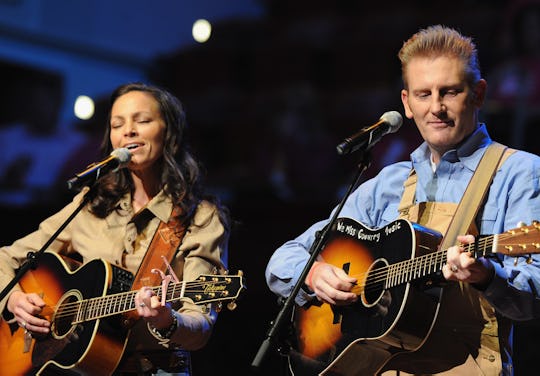 Rick Diamond/Getty Images Entertainment/Getty Images
Joey Feek ACM Award Tribute Gets Standing Ovation & It Was Totally Deserved
Tributes at award shows are always pretty sad, but Joey Feek's ACM Award tribute received a standing ovation on Sunday night, and it was easy to understand why. Feek died from stage 4 cancer in early March. Her battle with the disease and her final days with her husband and musical partner, Rory Feek, were widely publicized. For example, just after the Grammy nominations were announced and Joey was in hospice care, Rory spoke to The Tennessean about her goals for the end of her life. They included living through the Grammys, the release of their newest album, Hymns, and their daughter Indiana's 2nd birthday on February 17. Luckily, she was able to do all three.
"She's so faith-filled and determined, don't be surprised if you see us sitting in the audience at the award show," he said in the same interview. He added that they'd be "holding hands and smiling when they open the ballot and read the winner's name." Joey didn't make it to the ACMs, but almost all of country music was there when the awards offered a brief but touching tribute to her, and everyone who was there gave Feek a standing ovation.
Following the ACM Awards tribute, Joey + Rory fans on Twitter shared how moved they were. One fan wrote, "heartwarming tribute to the beautiful Joey Feek. Such a wonderful woman all the way around." Of the standing ovation, another fan was proud of the music community, tweeting, "well done country music." Others were just glad that the ACM Awards decided to honor her at all, since the duo had long been considered snubbed by the industry in terms of awards and airplay.
Feek was just 40 years old when she passed. Just after her death, Rory said that his wife's "dream" had finally come true, since she was most definitely in heaven. "The cancer is gone. The pain has ceased. And all her tears are dry," he said in a statement, according to People magazine. He continued, "When a person has been through as much pain and struggle as Joey's been through, you just want it to be over. You want them to not have to hurt anymore."
Just this weekend, Rory shared a picture of her grave in their hometown of Alexandria, Indiana. He posted the picture on their Facebook page with the caption, "a bright sunrise will contradict the heavy fog that weighs you down." Her grave was nestled in grass right by some horses and marked with just a wooden cross.
As a young mother and obviously beloved wife, Joey will certainly be missed. Sunday's ACM Award tribute was just another way to show that her legacy and music will live on, too.