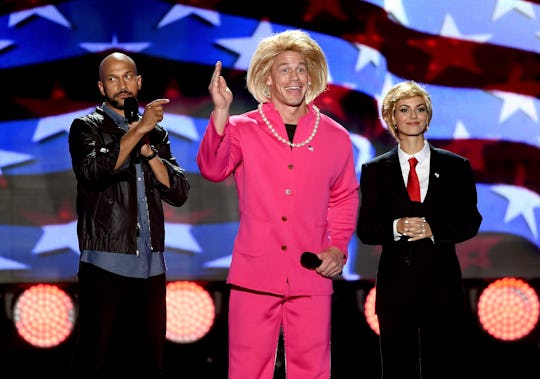 Kevin Winter/Getty Images Entertainment/Getty Images
John Cena Dresses As Hillary Clinton At The Teen Choice Awards & Wins The Internet
There's quite a few things the world has come to expect from the Teen Choice Awards: numerous awards snagged by Taylor Swift, performances by Justin Bieber, and plenty of teen heartthrobs walking the red carpet are all generally expected. But this year, co-hosts John Cena and Victoria Justice decided to spice things up just a bit with a light-hearted presidential spoof. Justice suited (and wigged) up to play Donald Trump, and Cena dressed up as Hillary Clinton in a pink pantsuit and pearls. Needless to say, he killed it — and Cena fans lost their minds over his over-the-top impression of the Democratic candidate.
The night began with an introduction from actor Keegan-Michael Key, who said this year would mark the very first Teen Choice presidential election. With that said, Cena stepped on stage wearing a loose, pink pantsuit, a string of pearls, and a blond wig fashioned into a bob. Justice, dressed as a suited Trump, commented to Cena: "Nice pantsuit. It's huge." In response, Cena shot back, "Nice head-badger — it's ridiculous."
The game of dress-up was an attempt to get TCA-watching teens interested in this year's election, in the hopes that it would inspire them to vote on Nov. 8. According to Entertaintment Weekly, the Teen Choice Awards worked with Rock the Vote to allow viewers to mock-vote for their preferred candidates during the awards show, urging TCA viewers to "cast their vote" by using the hashtag #ChoicePresident on Twitter or weighing in on the TCA website.
Before the voting began, however, Key laid down some ground rules. "You have to pick one of these two major candidates," he said. (Was it just me, or did anyone else think that was a sneaky dig at the "Bernie or Bust" crowd?) He continued:
There's no write-ins, guys. I don't want to see any of your Biebers, or your Swifts, or your Pokémons.
Not everyone decided to play by Key's rules, however. Some teens "voted" for Obama, others cast their ballots for Zendaya, and a few made a concerted effort to vote in Justin Bieber. Regardless of the viewers' presidential choice, however, it seemed everyone had an opinion on Cena's hot pink pantsuit:
It seems like Cena's pantsuit getup — or, you know, Clinton's policies — was a roaring success, because at the end of the night, TCA announced that Hillary Clinton had won their mock election. The Team Choice Awards then urged viewers to register to vote and to cast their ballots in the real election in November. With any luck, the awards show's stunt will have convinced a few more young people to cast their votes on election day.