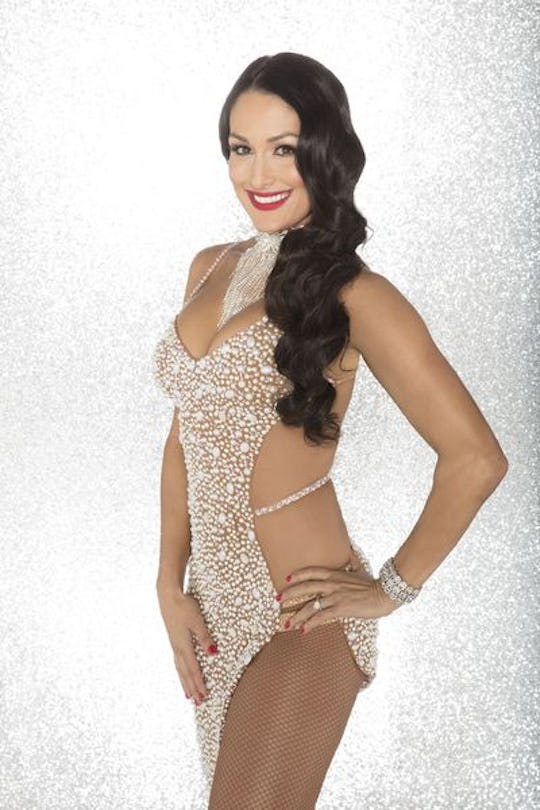 Craig Sjodin/ABC
John Cena Showed Up On 'Dancing With The Stars' & Fans Lost Their Minds
If you've been watching Dancing with the Stars, then you'll know that Nikki Bella is competing, trying to soften her natural urge to control in the ballroom. On Monday night's episode, her fiancé John Cena made a cameo on Dancing with the Stars and fans pretty much freaked out. Because John Cena is everything that is good in this world, in case you were wondering. Bella has mentioned on more than one occasion that she feels a little uncomfortable dancing the overtly sexy routines with partner and noted not-fiancé, Artem Chigvintsev.
The previous week, Bella and Chigvintsev slowed things down for an elegant waltz, wherein Bella let herself be slow and elegant, as well as a sexy samba to "Despacito" on Latin night on Tuesday. "I had to prep John," Bella told E! News before the performance. "We're just rolling on each other like the whole time it feels like." But Cena, being the supportive fiancé that he is, seemed to be fine with it. Bella said to Entertainment Tonight, "He said, 'You killed it' in caps lock." She went on to add, "He's so proud of me. And he knew how uncomfortable I was this week in doing all this. I mean, I made a mask of his face and put it on Artem so… I don't think they showed that." So when Cena showed up to support his fiancé on Monday night, Twitter seemed just as into it.
But if you thought that Latin Night was sexy, that was nothing compared to "Guilty Pleasures" night. Bella said that her guilty pleasure was romance novels (same, girl), in particular Fifty Shades of Grey. So naturally, she and Chigvintsev danced a Fifty Shades-themed routine, that made even me blush. I can only imagine what I would feel like if that was my husband-to-be doing that routine. Luckily, Bella's betrothed was actually in the audience to give his real-time feedback. Naturally, he turned on all that adorable charm of his. It turns out Bella has the best boyfriend ever.
Host Tom Bergeron brought the wrestler onto the stage as the dancers received their feedback, joking that he thought it would be best if he was there with them. When asked what he thought his first word was, "spicy?" as if unsure what the correct critique would be. But he went on to say, "I thought it was exciting, sexy. I thought it was fearless. I thought it was every reason why I love you." Well, I'm in love with John Cena everybody. He even stood up for his lady when she received critiques.
Judge Len Goodman noted that she was more aggressive than she had been the week previously. "That's my girl. She's aggressive," Cena said. It's always great to watch happy couples stick up for each other. It especially can't be easy watching such overtly sexual dances from your partner. But this is why Cena is everybody's favorite.
This is the first time that Cena has shown up in the audience for one of the Dancing with the Stars performances. However, he's definitely been supporting Bella on social media, tweeting out for his followers to vote for Team Smackdown to keep them in the running. To be honest, I'm not very familiar with Nikki Bella outside of this show, but I might vote for her just on behalf of Cena.
Though he hasn't appeared in the ballroom before, I have a feeling Cena will show up again to support his fiancée. And maybe then, who knows, could he possibly be a star on the next season of the show? My fingers are officially crossed.
Watch Romper's new video series, Romper's Doula Diaries:
Check out the entire Romper's Doula Diaries series and other videos on Facebook and the Bustle app across Apple TV, Roku, and Amazon Fire TV.