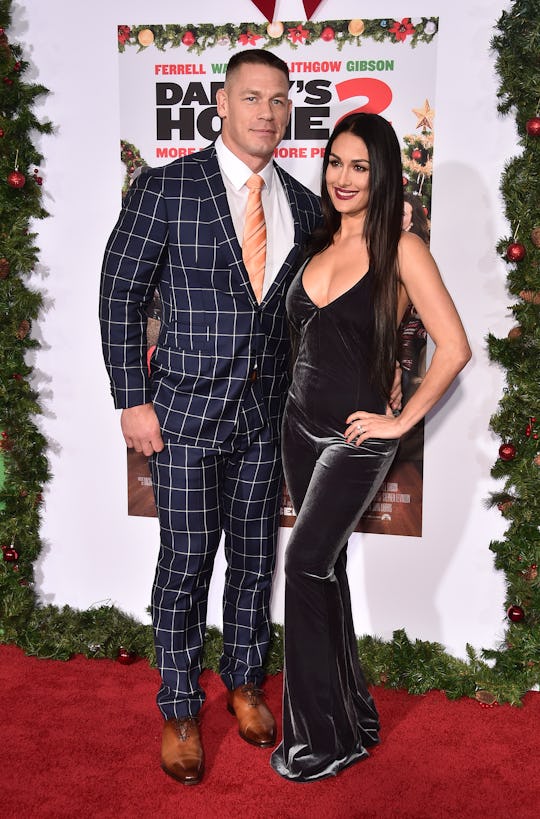 Alberto E. Rodriguez/Getty Images Entertainment/Getty Images
This Could Be The Real Reason John Cena & Nikki Bella Spilt Up
After spending six years as a couple and one year engaged, WWE's power couple called it quits. Now that the initial shock has somewhat worn off, fans may be ready to hear the reasons behind their breakup. John Cena and Nikki Bella reportedly disagreed on having kids and it may have been an underlying cause of their decision to end the relationship.
Just weeks before the date of their destination wedding, Cena and Bella announced that they were ending their engagement, according to Us Weekly. Bella announced the news on her Instagram on Sunday in a heartfelt post coming from the two of them. "While this decision was a difficult one, we continue to have a great deal of love and respect for one another," she wrote. "We ask that you respect our privacy during this time in our lives." That same day, Cena tweeted about struggles and pain, seeming to reference the split. The announcement did not explain the reason behind their breakup, but their past interactions may provide some context.
People reported on Monday that the couple has been divided on the possibility of becoming parents for years now. While Bella made her desire for motherhood known from the beginning, Cena remained vocal about not wanting children of his own. "I do want to be a mom," Bella told Cena in a 2013 episode of the hit show Total Divas. "I feel like I'd be missing out." To which he replied, "I'm going to choose my words carefully. I can't give you that."
While Cena did go on to propose to Bella in April 2017, he seems to have remained opposed to having children. Bella, on the other hand, appeared to have acquiesced in her hopes of becoming a mother after a few years. She told People as much in an interview shortly after getting engaged to Cena:
Would I hope John would one day want kids? One hundred percent. But I have come to that decision to being okay with it, that I won't be a mom. I will be the greatest aunt ever.
Neither Cena nor Bella have officially commented on the cause of their separation. But a source close to the couple reportedly told People that marriage and children were the reasons behind the split:
She never gave him an ultimatum. But as the day got closer, it was like he just went back to who he's always been — which is someone who puts himself first, always. He's an incredibly dedicated, driven, ambitious guy. And for the longest time he said he didn't think he had room in his life for a spouse or kids. It seems like in the end that was still the truth.
Just last month, Cena spoke with Us Weekly about his relationship with Bella, sharing that love isn't easy and not all of the struggles that the two face are public knowledge:
Relationships are hard. Don't ever think that love is easy ... We work every day on us. We have our problems just like everybody else. Some of our problems are very public, some of them aren't. But we work every day on us.
In that same interview, he explained how hard it is to "mesh two lives" and how he would never want to keep Bella from having what she wants:
I would never ever want Nicole to be in a position where she says, 'I'm holding you back from doing this because I feel it's wrong for us.' And I would never say that to her.
At the time, he was speaking about how their busy schedules often kept them apart, but his words can certainly apply to differing opinions on parenthood as well. Ultimately, no one knows exactly what went on in their relationship but Cena and Bella. They have asked for fans to respect their privacy during this time, and that's the best thing you can do for them.