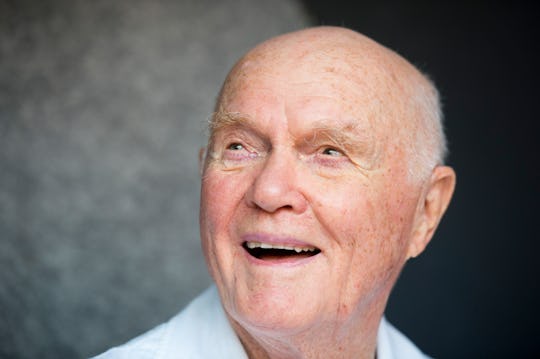 Jason Miller/Getty Images Sport/Getty Images
John Glenn Has Died At 95, Leaving Behind An Undeniable Legacy
On Thursday afternoon, it was confirmed that John Glenn had died at the age of 95 near his hometown in Ohio, surrounded by his children and his wife of 73 years. Glenn was hospitalized a little over a week ago and passed away at the Ohio State Cancer Center. As a Marine Corps pilot, an astronaut, and a senator, Glenn lived many adventurous and varied lives within the span of his own. For many, he remains an unquestionable hero.
Glenn was a respected veteran who flew 149 combat missions in World War II and the Korean War. He broke barriers in air and space, even holding a record for transcontinental flight, flying from Los Angeles to New York City in three hours and 23 minutes. As the first American to orbit the earth, Glenn was a true pioneer who was willing to sacrifice whatever was needed in the name of progress. He's especially remembered for, upon seeing the earth from space for the first time, exclaiming: "Oh, that view is tremendous!"
Glenn's orbit was key in keeping the United States on par with the Soviet Union during the Space Race. In reflecting on his groundbreaking Mercury flight, Glen said, 50 years later: "We were proud to be representing our country there. And so ... you made it as safe as you possibly could, and what little bit of risk was left, we accepted that."
Serving in the senate for 24 years, Glenn represented Ohio as a Democrat, offering an "expertise in weapons systems, nuclear proliferation issues and most legislation related to technology and bureaucratic reform," remembers The New York Times. At the end of his final senatorial term, Glenn opted to go back into space, boarding the space shuttle Discovery at the age of 77. By this point, Glenn was likely used to being first at things, but his "oldest person to go to space" title is still absolutely worth noting.
President Obama released a statement outlining Glenn's accomplishments as well as his impact, saying: "The last of America's first astronauts has left us, but propelled by their example we know that our future here on Earth compels us to keep reaching for the heavens." Glenn's life serves as inspiration and motivation to encourage expansiveness; Were he limited to one lane, he wouldn't have been able to accomplish all that he did -- accomplishments that our entire country has benefitted from.