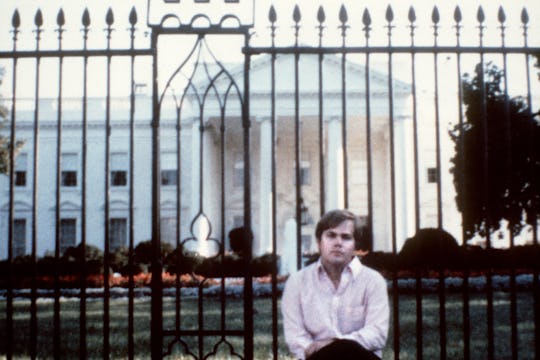 AFP/AFP/Getty Images
John Hinckley Jr., Man Accused Of Shooting President Reagan, Released From Hospital
After spending more than three decades in a psychiatric hospital, John Hinckley Jr., the man accused of shooting President Reagan, was released from the mental facility on Saturday. In 1981, Hinckley attempted to assassinate the 40th president of the United States outside the Washington Hilton in March 1981. He was later found not guilty by reason of insanity and was sent to a mental health institution for treatment nearly 35 years.
According to CNN, doctors say that Hinckley, who is now 61 years old, has recovered from the mental illness that drove him to allegedly shoot Reagan and three others — police officer Thomas Delahanty, Secret Service agent Timothy McCarthy, and White House press secretary James Brady, who was shot in the head, suffering from brain damage and had to use a wheelchair for the rest of his life. He death in 2014 at the age of 73 was ruled a homicide, but no further charges were brought against Hinckley for the assassination attempt.
Although a federal judge granted Hinckley "full-time convalescent leave" from St. Elizabeth's Hospital back in July, he will still live under certain restrictions in his 90-year-old mother's Williamsburg, Virginia home.
According to the court order, as a part of his release Hinckley will be banned from speaking to the press, he must work or volunteer three days a week, he can drive no more than 30 miles from his mother's home (or 50 miles if he is accompanied by someone), and he is required to see a psychiatrist twice a month.
"The very carefully considered decision by the court to release Mr. Hinckley based on the copious evidence by medical professionals and government expert witnesses should give great comfort to a concerned citizenry that the mental health system and the judicial system worked and worked well," Hinckley's lawyer Barry William Levine said in a statement, according to CNN. "People of good will should feel good about Mr. Hinckley's recovery and wish him well."
According to the BBC, Judge Paul Friedman's judgment to release Hinckley was because medical assessments showed that he has had "no symptoms of active mental illness" since 1983.
It became known that Hinckley's motive for the alleged shooting stemmed from unhealthy obsession with Jodie Foster and Taxi Driver, the 1976 film she starred in where Robert De Niro's character plots to assassinate a presidential candidate. Hinckley began stalking Foster — who played a child prostitute in the film — when she entered Yale University, where he enrolled himself into a writing class and would slip poems and messages under her door.
In the year leading up the attempted assassination, Hinckley made repeated attempts to call the 19-year-old actress at the time and was able to speak with her twice on the phone. But, unable to win her over, he then devised a strange scheme to kill the president, in apparent bid to impress Foster.
Following the attempted assassination, Hinckley was ultimately diagnosed with acute psychosis, major depression, and narcissistic personality disorder and, according to the court order, he has been in "full, stable, and sustained remission" from the first two diagnoses for more than two decades.
According to court documents, President Reagan's would-be assassin currently suffers from high blood pressure other physical ailments many men in the 60s face, but his mental condition has improved and is far from what it was three decades ago. Further, Hinckley's release and the new set of restrictions are meant to help him integrate in back into his community.