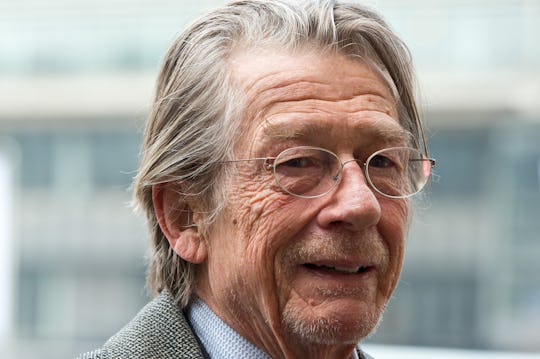 Ben A. Pruchnie/Getty Images Entertainment/Getty Images
John Hurt Quotes That Show He Will Be Remembered
Legendary actor John Hurt passed away at 77 on Friday, according to The Independent. The English character actor — who was knighted for his contribution to acting by Queen Elizabeth II in 2015 — starred in films that spanned decades defying genres that were enjoyed by generations. Luckily, John Hurt quotes throughout his career show that he will be remembered for years to come.
Hurt briefly battled pancreatic cancer in June 2015, according to the BBC. But by October of the same year, he was "all-clear." In 2016, Hurt had suffered from reported ill-health — and yet, he still persevered, continuing to star in films well into the time before his death. According to the BBC, Hurt was known as one of Britain's "best known and most versatile actors" — beloved and known by so many people in so many different countries. While Hurt will be remembered for the dozens and dozens of films that he starred in, he will also be remembered for his words. Hurt was an honest man — about his mortality, about his struggle with cancer, and was honest about his career. These John Hurt quotes show that Hurt will continue to be remembered for not only his acting, but his words, too.
On His Memorable Roles
According to the BBC, Hurt once said about acting:
The only way I can describe it is that I put everything I can into the mulberry of my mind and hope that it is going to ferment and make a decent wine. How that process happens, I'm sorry to tell you, I can't describe.
On His On-Screen Deaths
According to The Hollywood Reporter, Hurt reportedly died 40 times on screens "both big and small." He took note of that, joking of his deaths:
I think I've got the record. It got to the point where my children wouldn't ask me if I died but rather how do you die?
On His Iconic Voice
In addition to being a memorable actor on-screen, Hurt also lent his rich toned voice to different roles. Saying, according to The Hollywood Reporter:
I have always been aware of my voice in film. I think it's almost 50 percent of your equipment [as an actor]. It's as important as what you look like, certainly on stage and possibly on film as well. If you think of any great American stars, you think of their voices and their looks, any of them — from Clark Gable to Rock Hudson.
On His Chosen Career Path
In 2000, Hurt told The Guardian that he was interested in acting at a very young age:
Well I first decided when I wanted to act very early, I didn't know how to become an actor, as such, nor did I know that it was possible to be a professional actor, but I first decided that I wanted to act when I was nine.
On His Role As An Actor
Hurt was often honest about his craft, telling The Telegraph in 2015:
I'm the result of other people's imaginations. I never chose what I want to do. Actors are not always the best judges. We have a peculiar idea of what we think we are and sometimes it's best to decide what we play.
On Being Diagnosed With Pancreatic Cancer
Hurt was honest about his own mortality after his diagnosis with cancer, telling the Radio Times, according to The Guardian:
I can't say I worry about mortality, but it's impossible to get to my age and not have a little contemplation of it. We're all just passing time, and occupy our chair very briefly. But my treatment is going terrifically well, so I'm optimistic.
According to Mirror, Hurt reportedly did not wish for afterlife and maintained a humor about death, saying:
I hope I shall have the courage to say, 'Vroom! Here we go! Let's become different molecules!"
On His Knighthood
In the summer of 2015, just shortly after announcing his cancer diagnosis, Hurt was knighted by the Queen. He had a great sense of humor about his knighthood, telling The Daily Mail:
I did nothing to encourage it. Some people do, you know. I like being Sir John — it works, doesn't it? Or John. The only thing that sticks in my craw is when people say 'Mr. Hurt.' I tell them thats no longer correct.
On Living Life
Hurt was honest and refreshing about death, which makes his own even more sad. In 2005, Hurt was so honest about his own eventual death, telling The Guardian these words which will be remembered forever:
We are all racing towards death. No matter how many great, intellectual conclusions we draw during our lives, we know they're all only man-made, like God. I begin to wonder where it all leads. What can you do except do what you can do as best as you know how.
Hurt's legacy will continue to live on through his poignant words and extensive filmography.