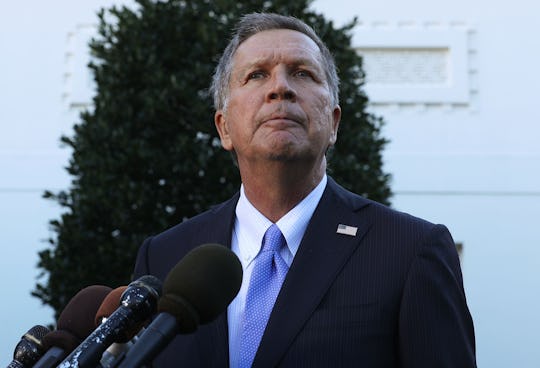 Alex Wong/Getty Images News/Getty Images
John Kasich Signs Bill Banning Abortion After 20 Weeks, But Vetoes Heartbeat Bill
Just a week after it hit his desk, Ohio Gov. John Kasich signed a bill banning abortion after 20 weeks. On the same day, he line-item vetoed the so-called "heartbeat bill," which would have banned abortion as soon a heart beat was detected, or around six weeks of gestation. It was likely that he was going to sign one or the other and it's not very surprising that he chose to veto the heartbeat bill, which was a provision tacked onto a bill about reporting child abuse.
A ban on abortion after six weeks would have been radical and much more likely to be contested by pro-choice advocates. North Dakota and Arkansas both attempted to ban abortion at six weeks, but both of those attempts were rejected as unconstitutional by the Supreme Court. If anything, signing the law would drag the state into an expensive lawsuit with Planned Parenthood and the ACLU, both of which pledged to bring legal action if the so-called "Heartbeat Bill" was signed into law. If not for the threat of legal action, Kasich likely would be behind a six-week abortion ban, given that he's signed 18 anti-abortion laws into place while in office.
The organizations have also pledged to fight the ban on abortions after 20 weeks, but there is more legal precedent for such a restrictive ban. Fifteen other states ban abortion at 20 weeks. Ohio's bill has an exception if the woman's health is at risk, or if there's a "medical emergency" that threatens her life, but otherwise, there is no choice for a woman after 20 weeks, even if she was raped of the victim of incest.
But even the "medical emergency" scenario caveat in the law's fine print is misleading, according to NARAL States Communications Director James Owens.
"The 'medical emergency' envisioned by the law is not considered a health exception because it requires a woman to literally be on death's [door]," he explained, in an email to Romper. "The law's language is a fig leaf deliberately used by politicians trying to ban abortion who don't want to come across as unreasonable. It's a totally fake 'exception' that has nothing to do with standard medical practice."
Although fetal viability is usually determined after 24 weeks, the 20-week ban is based in faulty research that claims a fetus can feel pain at that point of gestation. That research has been wholly rejected by the American Congress of Obstetricians and Gynecologists.
Roe v. Wade states that abortion is legal up until the point of viability, which is usually slated at around 24 weeks. But Republicans like Kasich and anti-choice advocates are fighting to overturn that ruling. Passing bans at 20 weeks is a step in that direction.
Katherine Franklin, a spokeswoman for Ohio Right to Life, told The Hill that both of the bans were "pre-viability" bans, but that her group believes it was the best strategy in the long run.
"It's not just the Ohio strategy but the national strategy," Franklin said. The Right To Life of Northeast Ohio, along with other organizations nationwide, believes that women shouldn't have access to contraception, since they claim birth control is basically abortion. (It's not.) Women in Ohio who need an abortion will be completely restricted if this legislation goes unchallenged.
What anti-choice advocates would like to do is eliminate abortion altogether, an outcome which would put women's health at risk. Without access to safe abortions provided by qualified doctors in any given state, there's a chance that women will turn to other more dangerous measures, such as home abortions, to terminate their pregnancies. It happens all the time, and can result in criminal charges for the woman as well. (In Tennessee, for example, a woman was charged just last month with three felonies for attempting to abort her fetus with a coat hanger in a bathtub. The 32-year-old woman has pleaded not guilty to all charges against her and is awaiting trial.)
Pro-choice advocates are likely worried about Ohio joining the ranks of other states that restrict abortion earlier than fetal viability — but for anti-choice advocates, today was a big win.