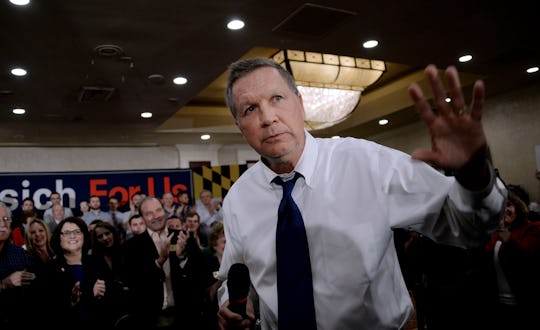 OLIVIER DOULIERY/AFP/Getty Images
John Kasich Won't Run As A Third-Party Candidate, Despite Rumors To The Contrary
In an interview with CNN's Anderson Cooper this week, erstwhile presidential candidate and current Ohio Gov. John Kasich said he won't run as a third-party candidate against presumptive GOP nominee Donald Trump and predicted Democratic nominee and former Secretary of State Hillary Clinton. Previous rumors claimed that Kasich had been approached by former Massachusetts governor and presidential candidate Mitt Romney to launch an independent bid. In the interview, Kasich said that to run as a third-party candidate would be inappropriate.
"I'm not gonna do that," he said during the exclusive Anderson Cooper 360 segment, which airs Monday night at 8 p.m. ET. "I gave it my best where I am. I just think running third party doesn't feel right. I think it's not constructive."
According to a May 14 Washington Post report, Kasich was reportedly among a select group of individuals being proposed as an alternative to Trump. According to sources with inside knowledge, several reportedly secret meetings were being held between conservative commentators William Kristol and Erick Erickson, and Republican strategists Mike Murphy, Stuart Stevens, and Rick Wilson, all of whom had come together to figure out a way to oust Trump on his path to the eventual GOP nomination.
The Post claimed the select group of possible contenders included Republican Sen. Ben Sasse of Nebraska; Kasich, who suspended his 2016 presidential bid on May 4; and billionaire investor Mark Cuban, who owns the Dallas Mavericks NBA team and is one of the "shark" investors on ABC's Shark Tank reality program.
Cuban apparently told The Post that he could "put [Trump] in his place" if he launched a bid of his own, although he said there "[wasn't] enough time" left in the election to go through all the necessary steps. "I don't see it happening," he told the outlet in an email.
For his part, Kasich, who was reportedly approached by Romney (in his interview with Cooper, Kasich claimed only to have had a phone call with "someone"), felt that the idea of jumping back into the 2016 pool under a different banner would be foolish. "A third party candidacy would be viewed as kind of a silly thing," he told Cooper on Monday. "And I don't think it's appropriate. I just don't think it would be the right thing to do."
Kasich had little impact in the early days of the 2016 campaign, but managed to hang around long after his former rival candidates had dropped out. In an address to supporters on May 4, Kasich noted that he was suspending his campaign but would not withdraw from public life.
"I have always said that the Lord has a purpose for me, as he has for everyone," Kasich said. "[...] I have renewed faith — deeper faith — that the Lord will show me the way forward, and fulfill the purpose of my life."
For now, it seems that way forward will not include another shot at the presidency.