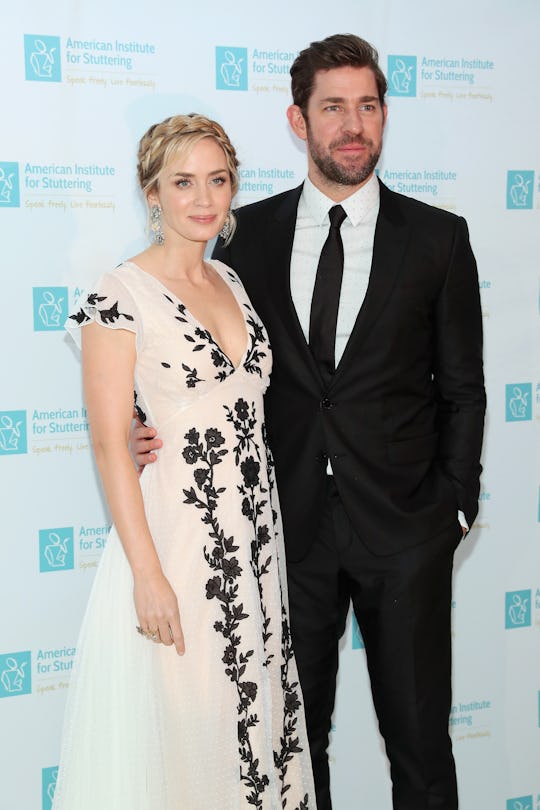 Cindy Ord/Getty Images Entertainment/Getty Images
Here's Why John Krasinski Says He Flew Home Every Weekend While Filming 'Jack Ryan'
On Friday, the Amazon Prime Video reboot of Tom Clancy's Jack Ryan premiered at the U.S.S. Iowa Battleship Museum in Los Angeles, California. And during the event, the lead in the series, John Krasinski, talked to People about what it was like to juggle his duties as the star of the Amazon show and as a husband to Emily Blunt and father to their kids. In fact, John Krasinski says he flew home every weekend while filming Jack Ryan just to be with them as much as possible.
Jack Ryan is described as "a modern day reboot" of the Clancy novels of the 1980s and early 1990s and more recent big screen adaptations by NBC News. Alec Baldwin, Harrison Ford, Ben Affleck, and Chris Pine have all played the title character in the past, but it's Krasinski who plays the part in the new Amazon series.
And it sounds like it was quite a challenge to make both the filming of Jack Ryan and time with his family a priority for Krasinski. At the same time he was working on the series, his wife, actress Emily Blunt, was filming Mary Poppins in London, according to People. The couple share two children together, Hazel and Violet, according to Entertainment Tonight. And Krasinski was determined to be with them as much as possible even while filming the project.
Krasinski told People exactly what was involved in making a schedule that his daughters, Violet, 2, and Hazel, 4, and his wife fit in work around his Jack Ryan filming. He told the outlet:
Family for me, it's a non-negotiable thing. So if I'm honest, I was shooting 6,000 miles away from them, and I flew back every single weekend.
That might sound grueling, especially because these aren't short trips Krasinski is referring to here. He went from Montreal to London and back for these visits, but it was a price the Office alum was willing to pay to make sure their kids had some stability with their mom and he still got to see them all. Krasinski went on to tell People:
Emily was shooting a little indie movie called Mary Poppins, so they were with her, and we always set up a base, and I always want the base to be with their mom, and I'll do the flight time.
But Krasinski isn't complaining about the trips or their lifestyle. He continued, according to People:
We are all so lucky to be doing what we're doing. If there's one thing that's a bummer, it's that you spend time away from your kids. But guess what, a lot of people spend time away from their kids. So for me, I think we're all living in a fantasy camp. So I'm not going to be the first one to complain.
And this isn't the first time Krasinski has been so open about his family, his kids in particular. In fact, in April, he told HelloGiggles that the film A Quiet Place — which he co-wrote and directed and also starred in with Blunt — was ultimately about his family and daughters. He told the outlet:
As scary as it is — and I love that people are saying it's a scary movie — the truth of the matter is — and it looks insane from looking at this [movie] poster — this is a love letter to my kids. This is truly a story about, 'What would you really do for your children in order to protect them?' The family stuff is so emotional for me.
Clearly, family means everything to Krasinski. And other people take notice. His Jack Ryan co-star Dina Shihabi confirmed with People Now in August that Krasinski "flew basically every weekend to London, where Emily was shooting Mary Poppins, to be with his kids. He would wrap at like 5 a.m. on a Saturday morning, get on the next flight to London, and then come back Sunday night. That's how committed he is to his family."
That sort of hectic schedule takes quite a bit of commitment, but it sounds like it's all worth it to Krasinski in the end.