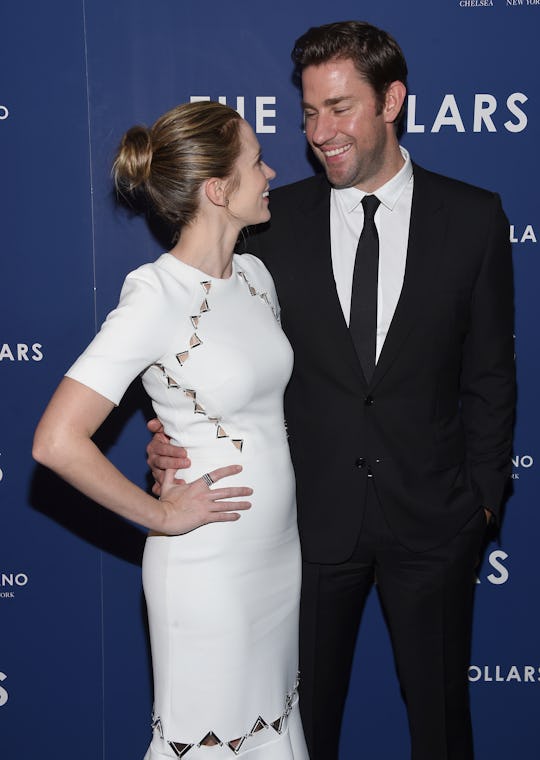 Dimitrios Kambouris/Getty Images Entertainment/Getty Images
John Krasinski Says Emily Blunt Is His Hero, & It's Such A Cute Dad Compliment
John Krasinski and Emily Blunt are certainly an adored celebrity married couple. The pair each have successful acting careers, and have often publicly expressed their love for one another. But Krasinski may have possibly reached peak cuteness with his recent comments about Blunt, who he has two daughters with, Violet and Hazel. Most recently, Krasinski said Blunt is his hero, and it's undeniably adorable. Especially considering many fans of The Office like myself would consider Jim Halpert their heroes for life.
In an interview with TODAY, Krasinski talked about his physical shape and transformation to prepare for his role in Michael Bay-directed film, 13 Hours: The Secret Soldiers of Benghazi. As it turns out, Blunt, was his "hero" and inspiration – to which he explained she "always" is:
She's been in shape for movies like this, and she's just generally always in shape... in a frustrating way. My wife is my hero in every single way. Truly, every single day I'm blown away by her. So I'm always looking to her for inspiration.
Seriously, how much sweeter can it get.
Well as far as sweet-Krasinski-quotes-about-his-wife go, Krasinski's interview with The Daily Beast discussing 13 Hours and The Hollars (a film he directed, produced, and starred in), may be in serious competition for the actor's sweetest remarks about his love for his wife.
Krasinski told The Daily Beast that the "best days" of his life began when he meant Blunt:
My good ol' days were entirely different. So for me, the best days of my life started when I met my wife—that's the truth, it's not just me saying it because it sounds nice on a card. She's one of the coolest people, she's so talented, she's beautiful, and she's certainly out of my league. And so all of a sudden all of the things I loved, I got to find someone who loved that about me. There was a lot of my life that she hadn't experienced and a lot of her life that I hadn't experienced, so all of a sudden we got to start doing things that we liked.
Swooning.
Krasinski's film The Hollars released to theaters in August. The actor plays a struggling artist and expectant father who returns to his hometown after learning his mother has fallen ill. Krasinski and Blunt's second daughter, Violet, was born this past June. The father of two told TODAY that being a father has affected his approach to the film.
"I did understand my character's sort of plot a little better, being the guy on the doorstep of being a father," he said.
As for Blunt, she's quite busy these days herself. The actress is starring in the mystery thriller The Girl On The Train set to hit theaters Oct. 7.
Krasinski and Blunt may individually have a lot of projects going on, but clearly they make time to publicly express their love – and their fans can't get enough.