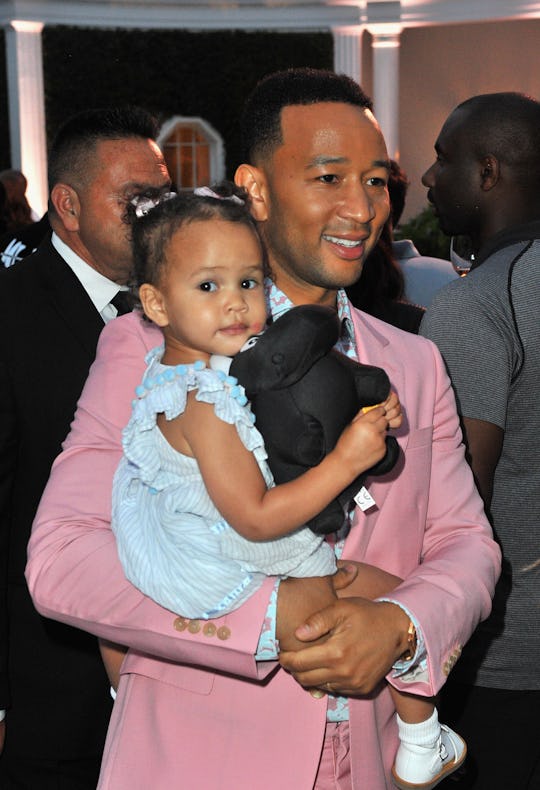 Jerod Harris/Getty Images Entertainment/Getty Images
John Legend Wants The Immigrant Children Crisis To End ASAP
It's safe to say that John Legend and his wife, Chrissy Teigen, are some of the internet's favorite people. And when Legend makes statements like the one he made to TMZ the other night, it becomes very clear why people love him so much. When a reporter from the outlet asked Legend whether we should be attacking politicians, then brought up Sarah Huckabee Sanders, Legend's response referred to the immigrant children crisis instead, and the pivot was brilliantly executed.
On Wednesday, Legend and Teigen were leaving Madeo in Beverly Hills when one of TMZ's reporters brought up Huckabee Sanders in particular, asking Legend, "should we be personally attacking politicians even if they're on the other side of the aisle?"
That might seem like kind of an odd question to ask a musician while he's out and about with his wife, but Legend actually talks politics all the time, so it's really not that strange for a reporter to ask him about a current topic in political news.
In fact, Legend actually tweets fairly frequently about policies of the Trump administration. And earlier this month, Legend and his family donated $288,000 to the ACLU to help defend "the rights and humanity of these vulnerable families," according to Elle. They were referring specifically to the people affected by the Trump administration's zero-tolerance policy.
That's partly why Legend's response to the TMZ reporter was so awesome. Instead of responding to the reporter's query, Legend said, "Ask me, 'Should we be reuniting 2,000 kids with their families?," according to video of the incident.
The reporter started to repeat the question back to Legend, but Legend didn't let him finish before he said, according to Elle:
Yes, we should. I don't care about f****** Sarah Sanders. Reunite the f****** kids with their families. Then we'll talk about Sarah Sanders and her f****** dinners.
A representative for Legend did not respond to Romper's request for comment at the time of publication.
Legend clearly wanted the reporter to ask him about something of extreme importance in political news: the fact that 2,047 children have been separated from their families as a result of the Trump administration's policy of sending parents and children who are immigrants who cross the border illegally and asylum seekers to different detention centers, according to USA Today.
This isn't even the first time that Legend has spoken up about the crisis so strongly. On Monday, he tweeted:
Let's make a deal with the Trump Administration. Reunite all these families immediately and you can go out to eat wherever the f--k you want.
So that jab about Huckabee Sanders' dinners when he spoke to TMZ on Wednesday was just a more specific reference than his previous tweet about administration officials being able to eat in peace.
As a parent himself, the immigrant child crisis has likely touched a nerve with the "All Of Me" crooner. Legend and Teigen share two children together: Luna Simone, who is 2, and Miles Theodore, who was born in May, according to PEOPLE.
Legend has spoken out about the crisis quite a lot in recent days. He told HelloGiggles on June 21 that the message he wants to send to the families at the border is simple: "we care about you." He went on to say, according to HelloGiggles:
We don't know you individually, but we believe that your humanity matters, and that your family matters. And we, as citizens of the United States, even though we're represented by a president we don't agree with right now, we want to welcome those who come here trying to find a better life.
And by asking a reporter to bring up the kids affected by this crisis, instead of discussing a political issue about civility, Legend is talking the talk and proving that these immigrant families and their children matter. Their situation deserves discussion, and Legend seems to want to make sure that discussion happens.
In addition to talking the talk, Legend is also walking the walk when it comes to supporting immigrant families. Legend is scheduled to perform at the Families Belong Together: Freedom for Immigrants March in Los Angeles on Saturday, according to Billboard.
The event will reportedly include "voices of immigrants and refugees," but actress Laverne Cox, Senator Kamala Harris, and more celebrities and politicians are set to appear alongside Legend.
Legend clearly has no patience for this policy that harms immigrant children. And if he has to drop an f-bomb to get reporters to talk about it, all power to him.