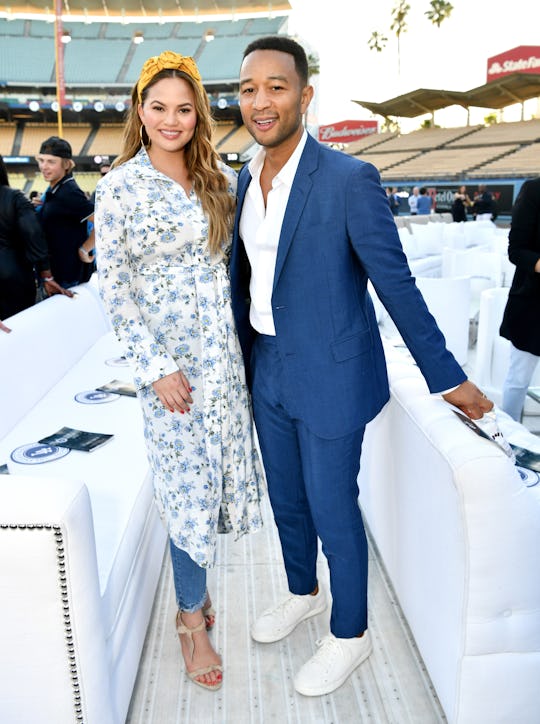 Emma McIntyre/Getty Images Entertainment/Getty Images
John Legend's Photo For Miles' 3-Month Birthday Proves They Are Father & Son
Chrissy Teigen and John Legend's baby Miles has no idea how cool his 3-month birthday is. The whole family has spent the past few weeks on a glamorous vacation in Bali, Indonesia, with Teigen and Legend documenting the trip on Instagram for their fans. In honor of his son's "birthday" falling on their last day in Bali, John Legend shared a cute snap of 3-month-old Miles that shows off just how much they look alike.
In the photo, which Legend posted on Instagram on Thursday, baby Miles is wearing a white onesie covered with a green, leafy pattern. His little legs look so delightfully chubby, his arms are positioned in a way that looks like he is dancing, and, most of all, his adorable face looks so much like his father's. "My beautiful boy Miles is 3 months old today," Legend captioned the image.
The post quickly racked up a ton of likes and comments from fans, many of whom noted how much Miles resembles Legend. "Oh My God it looks like a mini John! 😍❤," one fan commented. "He looks just like his daddy. Handsome little fella," another wrote. Another fan put a spin on the "headband of the day" tune Legend has been singing on Teigen's Instagram stories throughout their vacation. "Cute baby of the day, cute baby of the day...wash your fears away with the cute baby of the day! 🎤🎼," the fan commented.
This is far from the only cute picture Legend and Teigen have shared of baby Miles from their trip to Bali. On July 26, Legend posted a picture of him, Miles, and Luna, captioning it "Babies in Bali."
That same day, Teigen shared a super hilarious shot of Miles lounging on a couch in Bali, with an A+ smolder on his face. "Hello ladies," she captioned the photo.
A few days later, Teigen posted a super sweet shot of herself cradling baby Miles, who slept on her chest. "Just being my sweet, peaceful self," she wrote. Sorry, Chrissy, but Miles definitely wins the "sweet, peaceful self" contest here.
That same day, Teigen Instagrammed a photo of herself and a super smiley Miles lounging on a bed. "Favorite song: Copacabana," she wrote.
Last week, Legend shared a series of photos of the family of four meeting some sort of jungle creature. "Keep your paws to yourself!" Legend captioned the photos. Teigen posted her favorite picture from the experience, which featured the animal getting pretty cozy with Legend's head. "No idea what animal this is but I love it," she wrote alongside the photo.
And this week, Teigen shared a video of Miles giggling while his mom tickled his ears. I mean, HOW DANG CUTE is that laugh attempt!? Miles, with a mom as hilarious as Chrissy Teigen, there's no doubt you'll figure out how to laugh sometime soon.
Instagram is not the only place that Legend has gushed about being a dad to baby Miles. At the Los Angeles Dodgers Foundation Blue Diamond Gala on June 11, Legend spoke with HollywoodLife about being a family of four. "We are having fun! Our little brood!" he told the outlet. He added:
Well it is cool to have two at the same time, it is very different ... When Chrissy is breastfeeding, then I will be out playing with Luna in the yard. So the idea of splitting up is a little different than what we had before… But it is good to have two of us there to handle the two of them!
Bali may be over, but Miles and Luna's cute faces most certainly are not. Here's hoping for more family pictures from mom and dad once they return to the mainland.