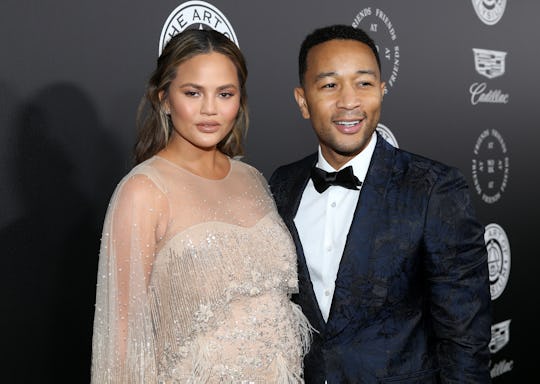 Phillip Faraone/Getty Images Entertainment/Getty Images
John Legend & Chrissy Teigen's First Night Out Since Welcoming Miles Oozes #ParentGoals — PHOTO
John Legend and Chrissy Teigen welcomed their second child, a boy named Miles, on May 16. Obviously, the couple has been quite busy since Miles' arrival, especially since they're already parents to 2-year-old Luna. Luckily for the Legend and Teigen, however, they managed to snag some alone time together on Sunday — a feat that isn't going unnoticed by fans. In fact, parents are *loving* John Legend and Chrissy Teigen's first date night pic since welcoming little Miles. As many fans have already pointed out, the cute snap is #parentgoals.
If you follow Teigen on social media, you probably already know that she has spent the past two weeks adjusting to life with two young kids. And as expected, Teigen is getting by with a lot of humor. "I have never more understood the desire and need for short, simple meals," Teigen hilariously tweeted on May 26, according to Twitter. "1 kid, I was like "ok...easier would be nice but I got this" but 2 kids, holy s**t f**k any recipe over 5 steps right now." Preach, sister. Quick and easy recipes are where it's at.
Luckily for Teigen, she got her first post-delivery break on Sunday when she and Legend ventured out for a date night. Although it's not clear where the couple snuck off to, it's obvious a little R&R suits them. "First post-Miles date night," Legend captioned a glowing snap of the couple, according to Instagram.
Of course, Legend and Teigen's supporters went wild over the coupley post. This is one of America's most beloved couples, after all.
One person commented: "I don't have kids @chrissyteigen but I love that you two are taking time to still celebrate your marriage, even as a new mom. #momgoals."
"Giving us life, Luna & miles 4everrr," someone else gushed. "Family goals, 4 humans that love each other and have a very special bond 4ever."
Another fan added: "Party of 4 now how cute. Have a great time you deserve it."
"#relationshipgoals love you guys and your beautiful family," a fan wrote. "Chrissy always looks amazing OMG."
Others couldn't help but comment on the size of Teigen's breasts.
"Postpartum boobs are our only reward," someone joked. "Enjoy em."
Another person chimed in: "Holy BOOBS!"
"Boobs boobs everywhere!! Milk milk everywhere!!" someone else penned.
Well, it looks like Teigen didn't mind the chatter about her boobs because she commented on the pic: "Pumpin tiiiiime."
Ha. It doesn't get much better than that response, folks. Teigen always keeps it real.
Speaking of realness, Teigen is still making sense of her new parenting reality at home — especially since Miles made his debut a bit early. "I cannot believe Miles isn't even supposed to be out of my belly yet," Teigen wrote on Sunday, according to Twitter. "His due date was June 6th! You guys thought I was pregnant forever before...."
Fans can also add Luna to the list of people who were a little thrown off by Miles' early arrival. "[Luna's] used to having us to herself," Legend recently told People about Luna's take on the family's new addition. "I think she's just starting to realize though that he might be competition. So in some ways it's good because she's stepping her game up. She's being more loving, she's singing louder, and dancing harder. She's making sure we don't stop paying attention to her."
Of course, Legend and Teigen "won't stop" giving attention to Luna that Miles is here. Chances are the couple will make even more of an effort to make Luna feel included going forward. And making an effort is one of the key principles of love and family, right? Putting in the time and work to express your love is invaluable, and it's clear Teigen and Legend are aware of this. In fact, Legend and Teigen's recent date night is evidence of how they're taking the time to appreciate one another and their growing family. Although there's no denying Teigen and Legend are in a privileged position to enjoy nights out (not every couple can afford to make this happen), it doesn't negate the fact they're knocking this whole married with two young kids thing out of the park. The best part is the couple has a ton of fans to cheer them on during this journey.